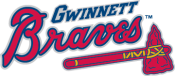 Hundreds of cars lined Ga. Highway 20 in Lawrenceville on Saturday afternoon, waiting for their turn in the parking lot of Coolray Field.
Heartfelt cries of "God bless you" and "Merry Christmas" poured from vehicles as unemployed families by the thousands patiently and happily filed through, volunteers from 12Stone Church and a number of partners doling out turkeys, hams and groceries to those in need this holiday season.
"It just means such a great deal," said Ladonna Smith, leaving with a turkey for her family's Christmas dinner. "It's such a blessing, especially being unemployed and having kids."
After police officers directed folks into the lot, a stone's throw from the Gwinnett Braves' stadium, volunteers-turned-traffic-managers orchestrated what turned out to be a smoothly run operation.
Cars were organized into four separate lanes, with pallets full of goodies stacked intermittently in between.
An estimated 250 volunteers cheerfully took requests from waiting recipients. All told, 12Stone distributed 2,500 meals Saturday.
"I love helping people," church volunteer Cathy Minter said. "They've been so thankful. They're wishing us a merry Christmas, but what I'm getting back from them … I just can't explain it. I just love it."
12Stone partnered with HoneyBaked Ham Corp., Kroger, Signature Foods and the G-Braves to provide "a meal and more." Each family went home with a HoneyBaked ham or turkey, a week's worth of groceries and a voucher for four tickets to a 2011 Gwinnett Braves game.
The church had already given 3,000 packages to unemployed members, friends and neighbors of the congregation. In all, the 5,500 packages distributed totaled more than $1 million in goods and services.
"It's been amazing," Minter said. "We love to serve people. And that's what God wants us to do."
As testament to the tough economic times, cars lined up at nearby gas station hours before the giveaway scheduled for 1 p.m., jockeying to make sure their family got a real Christmas dinner.
"This just helps you to be thankful for every day of life," recipient Terena Harris said. "Especially in times like this you need to be very thankful that people can maintain groups like this, and you can have a meal on the table."
Added husband John: "We just really appreciate it."
This article by Tyler Estep originally appeared in the Gwinnett Daily Post on December 18, 2010.