Silent Auction to be Held During Game Against Asheville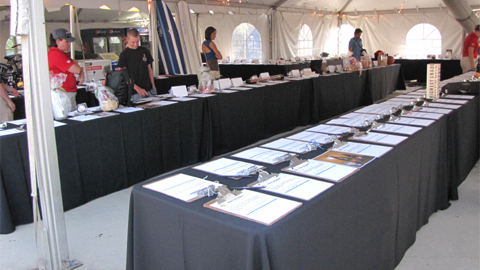 CHARLESTON, S.C. – The Charleston RiverDogs, the South Atlantic League affiliate of the New York Yankees, will host their 13th Annual "Kindness Beats Blindness" RP Auction on July 28 at Joseph P. Riley, Jr. Park.
All the proceeds for the event will go to the Medical University of South Carolina's Storm Eye Institute, which is dedicated to researching ways to try to prevent the loss of sight. The silent auction will begin when the gates open at 6 pm and will conclude in the sixth inning.
Those in attendance will have ample opportunity to "Be Your Own Fan" while taking home once-in-a-lifetime items, and lending a helping hand to a worthy cause in the process.
There will be a wide range of specialty gifts available at the auction, including a Walt Disney Dream Vacation, a New York package that will contain a hotel room, and tickets to a Yankees game and a Broadway show, as well as a Cooperstown package with passes to the Baseball Hall of Fame. These are just a few of many specialty gifts and services that will be available.
There will also be various sports memorabilia, with items autographed by Hall of Fame pitcher Phil Niekro, former Atlanta Braves All-Star John Smoltz, current Braves star Chipper Jones, New York Yankees pitcher Andy Pettitte and many more.
All fans that enter the ballpark are eligible to bid on the various goods and services. More than $400,000 has been donated to the Storm Eye Institute to help fight Retinitis Pigmentosa, a disease that causes blindness and has affected Rebecca Veeck, the daughter of RiverDogs President Mike Veeck.
"We put a lot of effort into this annual auction because we firmly believe in the cause," said RiverDogs General Manager Dave Echols. "Blindness hits us hard because of Rebecca, and we are trying to do our part to fight this disease that affects so many. Hopefully, raising needed funds for research will help prevent this terrible disease."
Additionally, the first 1,000 fans through the gates on Saturday, July 28, will receive a free Jorts Patch, courtesy of WTAT Fox 24.
For additional information about the "Kindness Beats Blindness" RP Auction or if you are interested in a donation, please call Melissa Azevedo at (843) 577-DOGS (3647) or visit www.riverdogs.com.
–RIVERDOGS–
This article originally appeared on the official website of the Charleston RiverDogs. Click here to view the original story.