List of high-end auction items released as RiverDogs battle Kannapolis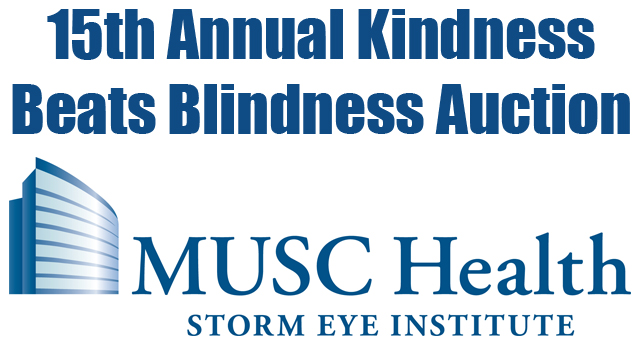 The Charleston RiverDogs will host their 15th Annual "Kindness Beats Blindness RP Auction" on Saturday, June 21, at Joseph P. Riley, Jr. Park.
The RiverDogs, fresh off their All-Star break, will face the Kannapolis Intimidators with the first pitch set for 6:05 pm.
With proceeds going to the Medical University of South Carolina's (MUSC) Storm Eye Institute and their on-going fight to prevent the loss of sight, the RiverDogs' silent auction begins when the gates open at 5 pm and concludes at the bottom of the 6th inning.

The Charleston RiverDogs have donated more than $500,000 to the Storm Eye Institute to help fight Retinitis Pigmentosa, a disease that causes blindness and that has affected Rebecca Veeck, the daughter of RiverDogs President Mike Veeck and his wife, Libby.
The list of high-end auction items includes:
Blue 2002 EZ-Go Electric Golf Cart
Features a rear-flip seat; battery; top and charger; approved for street use during daylight hours;
A Week's Vacation at "Serenity by the Sea"
Located in the Grand Pavilion at Wild Dunes Resort on the Isle of Palms; foursome at Harbor Course at Wild Dunes;
Tickets to the New York Yankees Legends Club;
Two-night stay at a special bed & breakfast; Sunday Jazz brunch on the Steamboat Natchez; and a tour of historic New Orleans;
Two-night stay in Bryson City, North Carolina; Biltmore Estates passes;
Hand crafted porch swing from Lowcountry Swing Beds;
Edge of America Staycation
Folly Beach hotel two-night stay: paddle boarding, dinners, sailing tour, kayaking, bicycle rental and the use of a MINI Cooper for the weekend.
In addition, the RiverDogs will have a wealth of sports-related memorabilia including a Freddie Freeman autographed bat, a Chipper Jones autographed retirement poster, a LeBron James autographed Miami Heat jersey, a Muhammad Ali autographed photo and much, much more.
For additional information about the "Kindness Beats Blindness RP Auction" or if you are interested in a donation or purchasing tickets to the game, please call Melissa McCants Azevedo at (843)577-DOGS (3647) or visit www.riverdogs.com or www.rileyparkevents.com.
This article originally appeared on the official website of the Charleston RiverDogs. Click here to view the original story.