Learn from the pros at FirstEnergy Park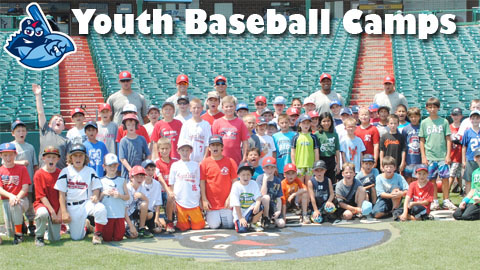 LAKEWOOD, NJ – Youth baseball players can learn the game from BlueClaws players right on the field at FirstEnergy Park at one of the team's three Youth Baseball Camp sessions in 2013.
UPDATED – All sessions are SOLD OUT.
The camps are open to players ages 7-12 and will cover all aspects of the game, including pitching, hitting, base-running, fielding, and throwing.
Each session runs from 9 am – 12 pm over four days and includes lunch each day and an autograph session with BlueClaws players on the final day of camp.
2013 Youth Baseball Camp Sessions
Session 1 – July 9, 11, 12, 13 [SOLD OUT]
Session 2 – July 25, 26, 29, 30 [SOLD OUT]
Session 3 – August 20, 21, 22, 23 [SOLD OUT]
The objective of the BlueClaws Youth Baseball Camp is to instill the fundamentals of baseball, promote good sportsmanship and create an enjoyable learning atmosphere for all.
These camps sell out each year and parents interested in signing up their kids are encouraged to do so early.
Registration is $175 per session, or $475 for all three sessions. To sign up, call Maggie Devlin at 732-901-7000 ext 164 or return this order form.
– BlueClaws –
This article originally appeared on the official website of the Lakewood BlueClaws. Click here to view the original story.