Here is a link to the original story on the team's website.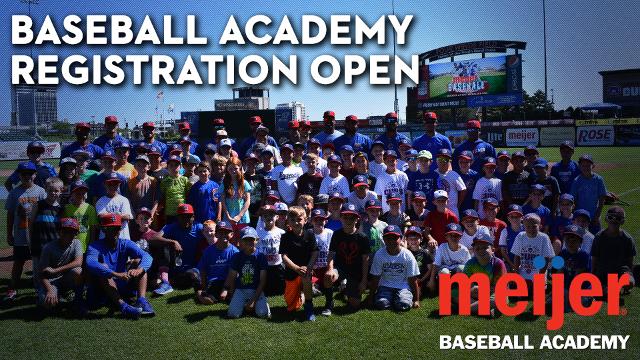 SOUTH BEND, IN – With Major League Baseball Spring Training right on the horizon, the South Bend Cubs are excited to open registration for the annual Meijer Baseball Academy. The South Bend Cubs will welcome young baseball players to Four Winds Field to participate in the Academy for two three-day sessions that run from July 11 through July 13, and again from July 25 until July 27.
The two academy training sessions are to help keep the camp sizes smaller and to allow more interaction with the South Bend Cubs players and coaches. Registration is open to children from 6 to 12 years of age. Instruction from players and coaches will be based on the age and skill level of each participant. Throughout the three-day experience, participants will learn about hitting, pitching, fielding (infield and outfield), catching, and base running.
"The Meijer Baseball Academy is an event we look forward to every year," South Bend Cubs President Joe Hart said. "It's a chance for young boys and girls who are just getting into the sport to learn proper baseball fundamentals and for the more advanced players to improve their game with the help from the players and coaches in the Chicago Cubs organization. "
The registration fee for one, three-day session is $125.00 per child. All attendees will receive a Meijer Baseball Academy t-shirt, a South Bend Cubs hat, lunch after each day of camp, and four (4) tickets to a South Bend Cubs game where all academy campers will participate in a pre-game recognition on the field.
Check-in for the first day of each session will begin at 8:30 a.m. ET. Camps will run from 9:00 a.m. to 11:45 a.m., with lunch at 11:50 a.m. Do not wait to register, there is a limit of 85 players per session with the registration deadline set for June 11. To sign up, download the application form at www.SouthBendCubs.com/BaseballAcademy and email it to Marketing@SouthBendCubs.com. Payments can be mailed or dropped off at the South Bend Cubs main office at Four Winds Field. Registration is not complete until payment has been received.
About the South Bend Cubs
The South Bend Cubs are the Class A minor league affiliate of the 2016 World Series Champion Chicago Cubs. Over the past 30 seasons, the team has won five Midwest League titles, most recently in 2005, and has captured 12 division titles. This year, Four Winds Field, home of the Cubs, was named Ballpark Digest's Best Single-A ballpark. In 2015, the team was named Ballpark Digest's Team of the Year and received the John H. Johnson President's Award, the highest award in minor league baseball. The team is owned and operated by Swing-Batter-Swing, LLC whose sole shareholder is Andrew T. Berlin of Chicago, Ill.
This story was not subject to the approval of the National Association of Professional Baseball Leagues or its clubs.