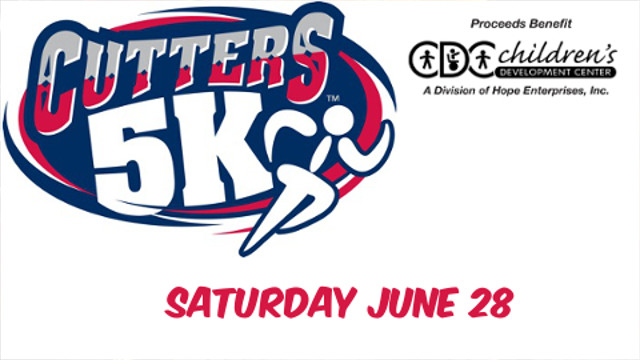 The Williamsport Crosscutters, in partnership with the Children's Development Center, will be holding the 4th Annual Cutters 5K on Saturday, June 28th at Susquehanna Bank Park at Historic Bowman Field.
The race, through Williamsport's West End, begins at 9am with registration open at 8am. The course has runners starting outside the ballpark entrance with the final sprint inside the stadium finishing at home plate. Both runners and walkers are encouraged to take part in the event.
All proceeds from the event benefit the Children's Development Center of Williamsport. Since 1923, the CDC has been providing services to children with special needs from birth to 21 years of age. Last year's event attracted over 200 participants while raising over $10,000 for the CDC.
"Since the affiliation between Hope Enterprises and the Children's Development Center was finalized, both organizations have been working together to enhance the service options for children and their families in our area. Having the support of our community with events such as the Cutters 5K, allows us to be better prepared to meet the needs of those to be served" stated Hope Enterprises President, Jim Campbell.
Prizes will be awarded for 1st, 2nd and 3rd place in seven male and female age categories. In addition to the prize awards, the top male and female runners will throw out ceremonial first pitches at the Williamsport Crosscutters game that evening. Prizes will also be awarded to the top three male and female walkers.
"We are proud to partner with the CDC again on this event. It just keeps growing every year", said Cutters Vice-President of Marketing Gabe Sinicropi.
Registration is $15 in advance and $20 on race day. All participants receive a race t-shirt (while supplies last), and a ticket to the June 29th Crosscutters vs. Mahoning Valley Scrappers game at 7:05pm. Registration forms and more information are available online at crosscutters.com, at the Crosscutters offices at Bowman Field or the CDC offices located at 625 W. Edwin St.   Sponsorships of the event are also still available.
Opening Night 2014, presented by Susquehanna Bank and KISS 102-7, is slated for Friday, June 13 as the Crosscutters host the rival State College Spikes. Season Tickets and Bonus Book mini-plans are now available at the ballpark, online at www.crosscutters.com or by phone at (570) 326-3389.
This article originally appeared on the official website of the Williamsport Crosscutters. Click here to view the original story.