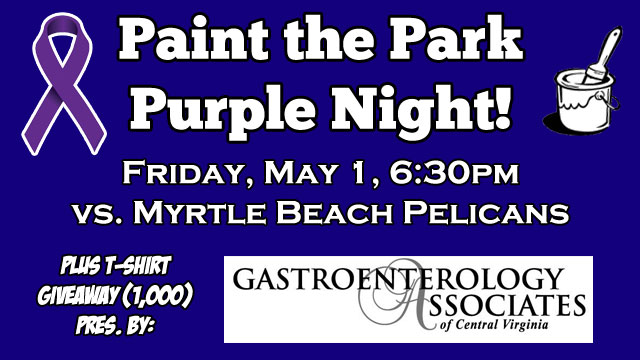 The Lynchburg Hillcats are teaming up with Relay for Life of Lynchburg and the American Cancer Society on Friday, May 1st at 6:30pm for the 4th Annual Paint the Park Purple Night and T-Shirt Giveaway for the first 1,000 fans presented by Gastroenterology Associates of Central Virginia!
Gates will open at 5:30pm and general Admission Tickets for the game will be $11 with a portion of every ticket sold benefiting the American Cancer Society. Relay for Life of Lynchburg will be held on Friday, June 12, 2015 and is an overnight relay style walk-a-thon that raises money for the American Cancer Society, as well as honors cancer survivors and remembers those lost to cancer. Local participants have been able to sell tickets to Paint the Park Purple Night as a part of their fundraising for their relay team. Fans will also be able to participate in a 50/50 raffle during the game, proceeds of which will also benefit the American Cancer Society.
Approximately 1,596,000 people were diagnosed with some form of cancer in the United States last year and it is estimated that over 41,000 new cancer cases will be reported in 2013 for the state of Virginia alone. The American Cancer Society raises funds worldwide for research programs to find cures for all forms of cancer, and helps those diagnosed to find treatments and support. Visit www.cancer.org to learn more about staying healthy and preventing cancer, as well as ways to donate or volunteer.
The Hillcats thank the following Paint the Park Purple sponsors: Gastroenterology Associates of Central VA (Title Sponsor); Brownstone Properties; Cintas; Courtyard by Marriott; Mortgage Atlantic; W.E.M. Masonry; Westover Dairy; Yellow Sub; 105.5 KD Country; 93.7 & 106.9 KHF; and WIQO/ESPN Radio.
To purchase tickets for the Paint the Park Purple Night, fans can call the box office at (434) 528-1144 or go online. Ticket purchases can also be made in person at the Lynchburg City Stadium Ticket Office (Mon-Fri, 9am-5pm).
This article originally appeared on the official website of the Lynchburg Hillcats. Click here to view the original story.