Miracle, Dave Clark Foundation team up or special day at the ballpark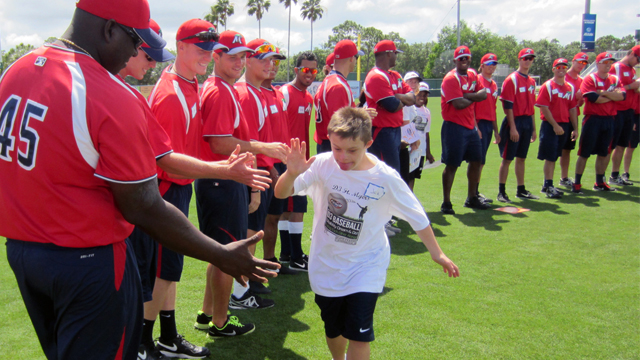 FORT MYERS, Fla. (April 8, 2014) – The Fort Myers Miracle are proud to team with Dave Clark Foundation for the ninth annual Special Needs Baseball camp on Saturday, April 26 at 10 a.m. at Hammond Stadium. The baseball camp is open to the first 25 individuals, with a physical or mental challenge, age 18 and under.
The entire Miracle team and coaches will teach kids the baseball skills of hitting, throwing, catching and fielding. The camp affords the opportunity for campers to experience the feeling of being a professional baseball player for a day.
Cape Coral resident Dave Clark hosts the camp. Suffering from the effects of Post Polion Syndrome (PPS), 61-year old Clark amassed over 600 wins during a 30-year baseball career that began in the early 1970s. Currently, Clark focuses his energy on public speaking, organizing disability events and is an envoy international coach for Major League Baseball.
As part of the Disability Dream & Do activities, Clark will present the "Pulling Each Other Along Award" prior to the 6:05 p.m. Miracle game versus the Palm Beach Cardinals on Saturday, April 26. The award is presented to an unsung hero(s) whose selfless acts have helped those with a disability. For more information about D3 or to nominate a worthy candidate, visit www.daveclarkfoundation.org or email: award@daveclarkfoundation.org.
"There are two types of dreamers. Dreamers that dream and dreamers that Dream & Do," said Clark, the only professional baseball player to pitch from crutches. "D3 Baseball with the Fort Myers Miracle gives the youth a wonderful chance to do both, Dream & Do."
There is no cost associated with the camp. To register a child, please call (239) 768-4210 or send an email to aadams@miraclebaseball.com. Include your name, the child's full name, full address, phone number, email address and any special needs for your child.
"This day always leaves an impression on all of our players, coaches, and our entire front office staff. To see the joy on the faces of the kids and our players while the camp is taking place is just priceless. This is one of the best events that we do all year long," said Miracle President Steve Gliner.
Kids are asked to bring their own baseball gloves and one adult chaperone is required to be in attendance with each child attending the camp. Each participant will receive four tickets for the Miracle game that evening at 6:05 p.m. Lunch will also be provided following the camp activities.
This article originally appeared on the official website of the Fort Myers Miracle. Click here to view the original story.