Here is a link to the original story on the team's website.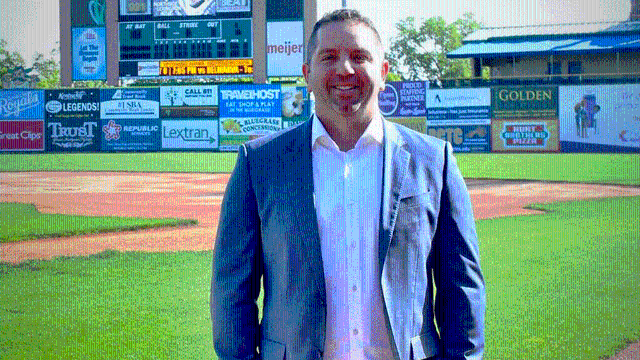 WHITAKER BANK BALLPARK (Lexington, KY) – (November 7, 2017) – The Association of Fundraising Professionals – Bluegrass Chapter presents the Distinguished Philanthropist Award to an individual, corporation, or foundation that has made a significant contribution to our community through their acts of kindness and charitable giving. "Over the years, only a select few have received this special recognition and this year's recipient is definitely worthy of this honor," said Patrick Robinson, AFP President.
On Friday, November 10, during the National Philanthropy Day Luncheon at the Marriott Griffin Gate, Andy Shea and the Lexington Legends will receive the 2017 Distinguished Philanthropist award.
In 2017, the Legends donated over $1.1 million to hundreds of charitable organizations in eastern and central Kentucky. One hundred percent of the Legends staff is currently involved in the community outside of the workplace.
President/CEO Andy Shea is the driving force behind all of the Legends' community initiatives and philanthropic accomplishments. He sets an example of empathy, kindness and selflessness for everyone he meets and encourages others to utilize their unique talents and passions in order to serve others.
Shea serves on the boards for LexArts and Junior Achievement. He has built relationships with 10 little brothers through Big Brothers Big Sisters, three of whom were groomsmen in his wedding this past October. He was also the 2013 and 2015 champion of Dancing With The Lexington Stars, which supports the Rotary Club Endowment Fund and Surgery on Sundays. In 2016, Andy won the American Diabetes Association's Kiss-A-Pig Campaign Individual Winner award for his fundraising efforts towards curing and preventing diabetes. This year, he was humbled to provide the lead gift towards Midway University's new baseball stadium, which will increase the university's athletic merit and offer Midway student-athletes the opportunity to compete in state-of-the-art collegiate facilities for the first time.
"It's clear that Andy Shea and the Lexington Legends make a huge impact in our community," adds Robinson. "AFP – Bluegrass Chapter is pleased to give this prestigious award to both an individual and a team who are touching many lives through their philanthropy."
(The National Philanthropy Luncheon will be held on Friday, November 10, from 11:30 a.m. – 1:30 p.m. at the Marriott Griffin Gate in Lexington. The Distinguished Philanthropist Award will be presented between 12:45 p.m. and 1:15 p.m.)
For more information about the Legends, contact Sarah Bosso at sbosso@lexingtonlegends.com or 859-422-7855. The Legends, a Class A affiliate of the Kansas City Royals and a member of the South Atlantic League, will return home to Whitaker Bank Ballpark against the Charleston RiverDogs, an affiliate of the New York Yankees, on Opening Day – April 5, 2018. For ticket information, call (859) 422-7867 or visit LexingtonLegends.com