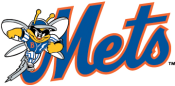 The Binghamton Mets, along with Maines Food & Party Warehouse, are reaching out to local Southern Tier Little Leagues with the B-Mets Big League Dreams program. New for the 2015 season, Big League Dreams, a youth baseball initiative, gives Little Leagues in the Binghamton area the chance to earn unbeatable rewards from the B-Mets.
To enter the drawing, a representative from each League is invited to acquire an application from Jesse Scaglion at the Binghamton Mets via email (jesse@bmets.com) or phone (607) 723-6387. The deadline to enter is Monday, April 13. Winners will be announced on Friday, April 17.
Five Little Leagues selected in the drawing will win terrific prizes including a $500 gift card to Maines Food & Party Warehouse and the chance to take the field at NYSEG Stadium alongside B-Mets players as part of the Field of Dreams program. Winning Leagues will also get a visit from B-Mets players and mascots at their field during the season. Maines will provide a concession stand makeover for all five winning Leagues.
This article originally appeared on the official website of the Binghamton Mets. Click here to view the original story.