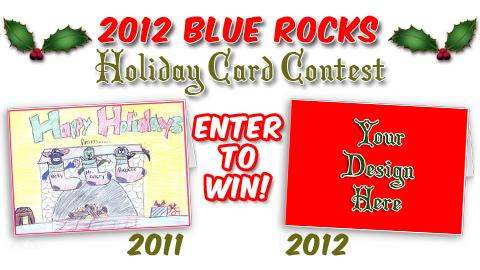 WILMINGTON, DE – The Wilmington Blue Rocks welcome all students in Kindergarten through Fifth Grade to participate in the 2012 Blue Rocks Holiday Card Contest. Entries for the 2012 Blue Rocks Holiday Card Contest are now being accepted until 5 p.m. on Wednesday, November 28. The winning entry will be the cover of the Blue Rocks Holiday Card. The winner will receive 10 tickets to Opening Night and a baseball autographed by the whole team!
All entrants will receive two tickets to a 2013 Blue Rocks game. The winner will be announced on November 30. Each entrant will receive two (2) complimentary tickets to a game in 2013. The grand prize winner will receive a team-signed ball, 10 tickets to a game and will throw out a ceremonial first pitch.
Art teachers and parents can send their entries to:
Wilmington Blue Rocks
Attn. Holiday Card Contest
801 Shipyard Drive
Wilmington, DE 19801
When returning entries, please be sure the student's name, address, phone number, school and grade are written CLEARLY on the back of the entry. Entries should be submitted on an 8.5″ by 11″ sheet of paper and will become property of the Wilmington Blue Rocks and will not be returned. Please note that the Blue Rocks offices will be closed on Thursday, November 22 and Friday, November 23. We thank everyone for their participation and Happy Holidays. Good luck!
The Wilmington Blue Rocks open the 2013 season on the Riverfront against the Frederick Keys on Friday, April 12 at 7:05 p.m.
Blue Rocks Baseball = AffordaFUNability!www.bluerocks.com
This article originally appeared on the official website of the Wilmington Blue Rocks. Click here to view the original story.