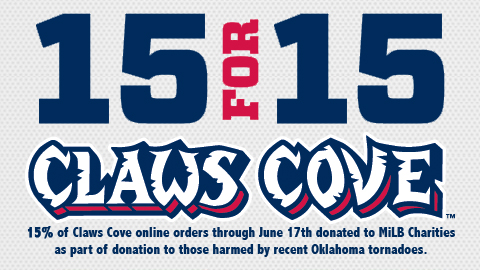 LAKEWOOD, NJ – The BlueClaws are pleased to be one of 51 Minor League Baseball clubs across the country participating in MiLB Charities "15 for 15" initiative to raise money for those affected by the recent tornadoes in Oklahoma.
15% of every order received via the Claws Cove online team store over a 15-day period ending June 17th will be donated to Minor League Baseball Charities as part of a donation that entity will make to the Oklahoma City Red Cross.
"After Superstorm Sandy came through the Jersey Shore, we received ample support from our fellow Minor League Baseball teams from all across the country," said BlueClaws General Manager Brandon Marano. "We are honored to help through this MiLB fundraiser."
The donation occurs on online orders only and applies to any item in the BlueClaws official online team store, accessible at http://blueclaws.milbstore.com.
"Our fans have traditionally been extremely supportive over all of our non-profit initiatives and we look forward to their support here in raising money for those affected by the devastating tornadoes," said Marano.
The BlueClaws official online team store includes various apparel like hats, shirts, jerseys and novelties. Limited All-Star Game apparel is also available.
– BlueClaws –
This article originally appeared on the official website of the Lakewood BlueClaws. Click here to view the original story.