Variety of healthy food options available at "The Joe"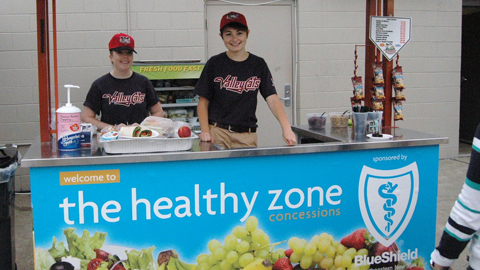 TROY, NY – This ValleyCats Season is sure to be one of the most exciting to date! The ValleyCats have partnered with BlueShield of Northeastern New York to welcome the Healthy Zone Concessions to the Joseph L. Bruno stadium.
Rather than a traditional vendor at the stadium, the Healthy Zone Concessions promises to live up to BlueShield's slogan "Healthy Changes Everything". The Healthy Zone will provide spectators with healthy snack and meal options such as apple nachos, salads and wraps, Greek yogurt and other healthy treats.
"The athletes aren't the only people in the stadium that we want to lead a healthy lifestyle," said Brian O'Grady, vice president of BlueShield. "Our hope is that the Healthy Zone Concessions will encourage spectators to take advantage of healthier meal and snack options while attending a baseball game."
"Each season, we strive to provide our fans with healthy alternatives to the traditional ballpark fare," said ValleyCats General Manager Rick Murphy. "Our partnership with BlueShield has allowed us to increase the variety of healthy food options at "The Joe" while promoting healthy living."
The BlueShield Healthy Zone Concessions is the newest addition to "The Joe" for the summer 2013 season and will be located in the first base concourse. Be sure to stop by and check it out at the next ValleyCats home game!
This article originally appeared on the official website of the Tri-City ValleyCats. Click here to view the original story.