The Boise Hawks have been patiently waiting for their trip to St.Lukes Children's Hospital and it finally happened yesterday. Michael Heesch, Stephen Bruno and Dan Vogelbach went to St.Lukes and visited with the children on the fourth floor. They handed out hats, baseballs, helmets, balloons, foam fingers (Bruno's favorite) and flower arrangements that the boys put together themselves at In Bloom Tuesday morning.
Vogelbach along with Nathan Dorris, Hunter Ackerman and Rock Shoulders all went to In Bloom where they learned the proper way to arrange flowers and the importance of giving back to the community. Host mom, Diane Laubengayer, put together this fun activity and was their teacher for the day. For Shoulders the importance of this trip was "just trying to keep the children happy and hopefully giving them the strength to pull through the tough days." While some children might only be in the hospital a short time, others are there for long-term treatment for up to a year.

The trip to St.Lukes started in the Play Room where there is an inside play area as well as a rooftop playground with bouncy balls, teeter-totter, and a play house. The boys played kick ball with one little boy and spent time with the families. Vogelbach was excited to see the first little girl come in; he immediately went for his flower arrangement and gave it to her. I have never seen a smile so big, both on the face of the little girl and on her father's.
We also got to meet a teenage boy who has grown up in a family of soccer players. He just started playing baseball last year and is a right handed pitcher, he was extra excited to meet Heesch. His first question was "What is your best advice for a pitcher?" The response he got, "Never let yourself have a bad day, and throw strikes!"
The visit seemed to open the hearts and minds of the players, Humphrey, and the staff who went along on the visit. The children's hospitals are close to my heart and I encourage all of you to take the time and show your appreciation for someone today!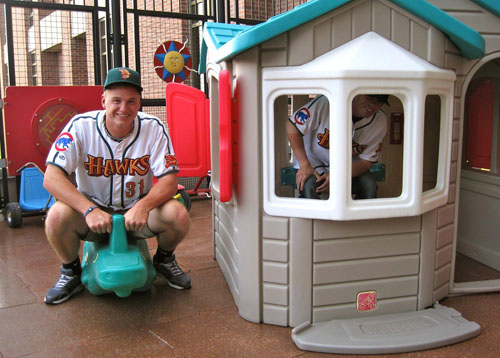 This story originally appeared on the "High Heels and Highlights" blog.  Click here to read the original story.