ROCK CATS RECEIVE HONOR FOR COMMUNITY SERVICE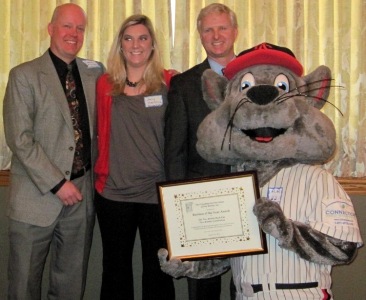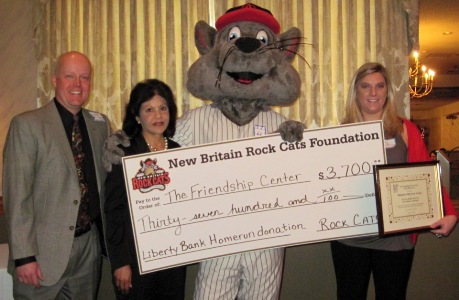 The Friendship Service Center of New Britain – a decades-old community-based organization dedicated to assisting the area's poor and disadvantaged – took time at its 43rd Annual Meeting yesterday to recognize the Rock Cats as their "2011 Business of the Year." The New Britain franchise enjoys a proud history of supporting worthy community causes and, as such, has been pleased to partner with the Friendship Service Center for several years.
Located on Arch Street, the Center provides a range of essential community living services, including emergency shelters and transitional and permanent housing, to families in need.  Ms. Ellen Perkins Simpson serves as the organization's Executive Director.
Assistance to the Center from the Rock Cats has come in many different forms including food and clothing donations, the provision of complimentary tickets to ball games, and the delivery of Thanksgiving Dinners and other Holiday gifts to families identified by FSC.
Another of the Rock Cats' fabulous sponsors – Liberty Bank – was also present at yesterday's event and took the occasion to present the Friendship Service Center with a check for $3,700! As a valued partner of the Rock Cats, Liberty Bank set aside $100 each time a New Britain player blasted a home run during the 2011 Season. As the 'Cats swatted 37 round 'trippers, Connecticut's oldest mutual bank put together a kitty of $3,700 – and yesterday generously donated the entire amount to FSC!  What a great gesture – and a wonderful cause. Bravo to all parties!
By the way, Liberty Bank noted that they plan to open their 44th branch location at 747 Farmington Avenue in New Britain in the Spring. Maybe some of next year's home runs will bounce off their new roof!
This article originally appeared on the official website of the New Britain Rock Cats. Click here to view the original story.