The Albuquerque Isotopes' first celebrity softball game turned out to an immense hit, as around 30 celebrities ended up raising $10,000 for YDI in Albuquerque.
Billed as "Breaking Bad" vs. "In Plain Sight," the game featured actors from those two shows as well as others shooting projects in the area, such as Cobie Smulders from "How I Met Your Mother," and even local luminaries like Mayor of Albuquerque Richard J. Berry.

Each roster also featured a number of local news celebrities including Dean Staley and Jessica Garate from KRQE 13, Jeremy Jojola from KOB 4, Chief Meterologist Joe Diaz from KOAT 7, and Nikki Stanzione and Kristen Van Dyke from New Mexico Style on KASA Fox 2. Assorted radio personalities TJ Trout (94 Rock), Buck, Dex and Baxter (104.1 The Edge), Jeff Siembieda (610 The Sports Animal) and Albuquerque Journal Sports Editor Randy Harrison also took part in the fun. Voice of the Isotopes Robert Portnoy and Myles Copeland from Big I 107.9 served as emcees.
Team "Breaking Bad" was managed by three-time Emmy Award winner Bryan Cranston, while the "In Plain Sight" side was helmed by the star of that program Mary McCormack. In the end, it was McCormack who ended up pulling all the right strings, leading the "In Plain Sight" team to an exciting 5-4 win.
The real winners, however, were Youth Development Inc. of Albuquerque, which was the recipient of $10,000 thanks to generous support from Wells Fargo.
All in all the game featured a lot of fun, a lot of funds, and a ton of smiles from both those participating and those fans watching.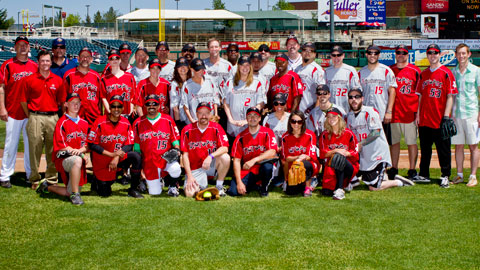 This story was originally posted on the Albuquerque Isotope's website. Click here.