Local organization to educate fans about teen bullying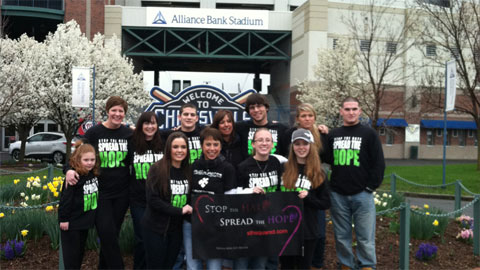 The Syracuse Chiefs, Triple-A affiliate of the Washington Nationals, are proud to host Strike-Out Bullying Night at Alliance Bank Stadium tonight before and during the team's game with the Durham Bulls.In collaboration with a movement led by West Genesee High School students known as "Stop the Hate, Spread the Hope," Strike-Out Bullying Night aims to educate Chiefs fans about teen bullying, support all those who have been or are being bullied, and to simply raise awareness for an important issue that is often overlooked.
Chiefs fans in attendance for tonight's 7:00 p.m. game will learn how they can play a role in putting an end to bullying and show their solidarity by signing a peace pledge. Stop the Hate, Spread the Hope fundraising merchandise will also be available for sale at Strike-Out Bullying Night.
Stop the Hate, Spread the Hope was founded in 2010 by Wendy Cross, Michael McCartney, Nick Longo, and Brett Henderson, who are now seniors at West Genny. To learn more about Stop the Hate, Spread the Hope, visit the organization's website www.sthsquared.com, Facebook page (www.facebook.com/sthsquared), and Twitter at twitter.com/@sthsquared.
Tickets for tonight's game, and all Chiefs home games, can be purchased in person at the Chiefs Ticket Office at Alliance Bank Stadium, by calling 315-474-7833, or online at SyracuseChiefs.com.
This article originally appeared on the official website of the Syracuse Chiefs. Click here to view the original story.