Longtime Sally League president was committed to charity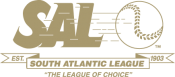 ST. PETERSBURG, Fla. — Minor League Baseball™ Charities announced today that it has created a community service award that will bear the name of a longtime, former South Atlantic League president. Beginning this year, the John Henry Moss Community Service Award will be presented annually at the Baseball Winter Meetings™ to a club that has demonstrated an outstanding, on-going commitment to charitable service and has exhibited support and leadership within its local community and the baseball industry.
The award honors Moss for his dedication and charitable service to baseball and his community during his 50-year tenure as a league president. Moss founded the South Atlantic League and presided over it from 1959-2008. He died in 2009 at the age of 90.
He also served as the mayor of his native Kings Mountain, N.C., from 1965-88. During his tenure, Moss obtained more than $40 million in federal grants for his city, resulting in numerous improvement projects. One such project included the building of the Kings Mountain Reservoir, also known as Moss Lake, named in his honor.
He also served as president of the Cleveland County (N.C.) Sports Commission. Gardner-Webb University in nearby Boiling Spring, N.C., named its baseball park John Henry Moss Stadium as a tribute to his long-term relationship with the school and Moss' many financial contributions to it.
"Our clubs do a tremendous job of becoming involved in their communities, especially when it comes to charitable endeavors," said MiLB™ assistant director of business development Jill Dedene, who manages the day-to-day operations of Minor League Baseball Charities. "We felt it was time that we annually recognize one of our clubs for its exceptional community service. Naming the award after John Moss, the longest tenured president in Minor League Baseball history who dedicated his life to public and community service, ensures that his numerous contributions to our industry and others will always be remembered."
"I think it is great that an award has been created to acknowledge the charitable and philanthropic efforts of the clubs," South Atlantic League president Eric Krupa said. "Using John's name in the award is an excellent way to honor his legacy. He certainly deserves to be remembered for all that he did for the game of baseball and for his contributions to his own community of Kings Mountain, as well as those to many of the communities that now host Minor League Baseball teams."
"I know that John would be extremely honored to have this award named after him because he loved to give to his community," said Moss' niece, Cindy Meek, who granted MiLB Charities the permission to use his name for the award. "Hopefully this will encourage others to do the same."
Each of the 14 domestic-based leagues whose clubs charge admission to their games can nominate one of their clubs for the honor. MiLB™ Charities will then select a winner from these nominees.
Some of the criteria that will be used to choose the winning club include the community service involvement of players, staff and/or ownership, company policies or programs that promote volunteerism among the staff, club-sponsored charitable initiatives and programs, donations to local not-for-profit organizations and community groups, involvement with civic organizations, participation in league-wide initiatives and committees, support of MiLB Charity Partners and engagement with MiLB Charities, and support of baseball-related not-for profit organizations, among others.
About MiLB Charities
Minor League Baseball Charities is a 501(c)3 not-for-profit organization dedicated to giving back to, and enhancing, the communities its teams call home. Through donations and support it receives from fans, teams and partners, MiLB Charities is able to contribute to local organizations in times of need and support causes that are important to its extended baseball family. Minor League Baseball Charities is affiliated with the National Association of Professional Baseball Leagues.
The mission of Minor League Baseball Charities is to give back and to enhance communities that have supported its member clubs for more than 100 years. When hardship strikes one of its member cities and surrounding communities, MiLB Charities will be there to provide a positive example that will impact the communities in which its leagues and clubs live and work. Minor League Baseball Charities will set an example by working with established charities for the greater good and by identifying worthy causes for support through the central office along with the aid of its member clubs.
This article originally appeared on the official website of the Minor League Baseball. Click here to view the original story.