Bresnahan inducted into Bowman Field Hall of Fame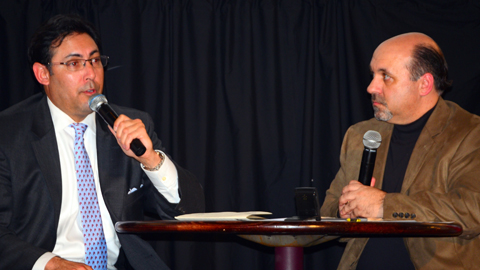 With a star-studded guest list and a jam-packed Genetti Ballroom, the Williamsport Crosscutters 6th Annual Hot Stove Dinner & Auction with the Phillies was a great success while raising $4,500 for charity.
On a cold winter night in Williamsport, Phillies GM Ruben Amaro, Jr, former Phillie Andy Tracy, former Phillies GM Ed Wade and others entertained attendees with stories and answered audience questions.
Tracy, who will manage the Crosscutters in 2012, discussed his excitement about his first year as a manager this summer in Williamsport and helping young players advance through the Phillies farm system. In talking about ending his playing days after the 2011 season, he remarked, "I was ready to enter the next phase of my baseball career."
The night, presented by HB Rentals, Woodlands Bank, WRAK Radio and the Williamsport Sun-Gazette, was also highlighted by live and Chinese auctions that featured a wealth of sports memorabilia including a bat signed by Phillies third baseman Placido Polanco, baseballs signed by Phils catcher Carlos Ruiz, hall-of-famers Goose Gossage, Rod Carew, Jim Rice and many others.
Other highlights of the event included the induction of Dave Bresnahan into the Bowman Field Hall of Fame. Bresnahan played for the Double-A Williamsport Bills in 1987 and gained national and worldwide notoriety for his trick play that involved using a potato instead of a baseball in a game that season against the Reading Phillies.
At the event, Bresnahan entertained the audience by describing in detail the trick play and it's planning. The play was ruled illegal and Bresnahan was released by the parent Cleveland Indians the next day. He made numerous TV and radio appearances across the nation in the days, weeks and years following the stunt which has been dubbed "The Great Potato Caper".
A portion of the proceeds from the evening were donated to Andrew's Special Kids Foundation. The foundation's mission is to "Provide special needs children with every opportunity in life which will enable them to reach their full potential by providing them with adaptive equipment, special education opportunities, safety equipment, therapies and financial assistance for out of state travel."
At the conclusion of the festivities, Dean & Amy Kriebel the founders of the charity along with their son Andrew, accepted a check for $4,500 to help the charity and its mission.
The Crosscutters 2012 season opens on June 18. Season tickets, bonus books and group packages are currently available and can be purchased online at www.crosscutters.com or by calling the Cutters at (570) 326-3389.
This article originally appeared on the official website of the Williamsport Crosscutters. Click here to view the original story.