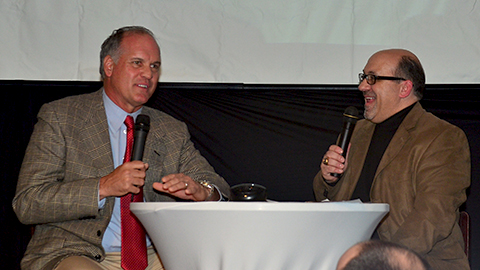 With a star-studded guest list and a jam-packed Genetti Ballroom, the Williamsport Crosscutters 8th Annual Hot Stove Banquet was a great success while raising over $5,000 for charity.
On a cold winter night in Williamsport, Phillies manager Ryne Sandberg, third baseman Cody Asche, Phillies TV Field Reporter Gregg Murphy & Phillies front office personnel entertained attendees with stories and answered audience questions.
In talking about the 2014 Phillies, Sandberg stated, ""I think we have that talent. We do have some young players that have a chance to chip in. Ben Revere was going good last year when he got hurt. The young arms in the bullpen got a shot to get some work last year and did a good job for the final six weeks of the season. I think that'll go a long way for us." When asked what is goal was, he said, "I want to get to a World Series, and I want to get there more than once."
The night, presented by Lycoming Mall, Woodlands Bank, WRAK Radio and the Williamsport Sun-Gazette, was also highlighted by live and Chinese auctions that featured a wealth of sports memorabilia including a bat and glove signed by Phillies catcher Carlos Ruiz, a special breakfast with the Phillie Phanatic, jerseys signed by Sandberg and Asche and much more.
Other highlights of the event included the induction of R.D. Slingerland into the Bowman Field Hall of Fame. Slingerland has worked on the Bowman Field playing surface for more than 25 years including installing an entirely new playing surface and irrigation system in 1997.
A portion of the proceeds from the evening were donated to Lycoming County Special Olympics whose mission is to provide year-round sports training and competition in a variety of sports for children and adults with intellectual disabilities. At the conclusion of the festivities, Special Olympics was presented with a check for $5,150.
The Crosscutters open the 2014 season on June 13 at Susquehanna Bank Park at Historic Bowman Field. Season tickets, bonus books and group packages are currently available and can be purchased online or by calling the Cutters at (570) 326-3389.
This article originally appeared on the official website of the Williamsport Crosscutters. Click here to view the original story.