"Bully Busters Unite" Outreach Initiative to Raise Awareness in Elementary Schools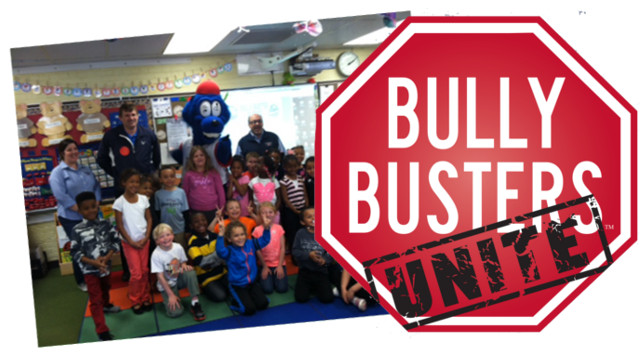 The Williamsport Crosscutters are proud to announce the launch of Bully Busters Unite, a new anti-bullying program aimed at raising awareness for a priority issue in local elementary schools.
The program, underwritten by Susquehanna Health, utilizes the star power of the team's beloved mascot "Boomer", who will engage students in recognizing bullying behavior and exploring what to do should they witness or experience bullying of any kind. The Crosscutters will provide free school assemblies and incentivize students with the goal of making a strong impact in the fight to stop bullying before it starts.

"While the Williamsport Crosscutters are proud of the success of our award-winning Grand Slam Reading Program that has been in existence for 19 years, reaching over 10,000 students per year, we have been searching for another worthwhile school outreach program to add to our arsenal that we thought could make an impact," said Gabe Sinicropi, the team's Vice-President of Marketing and Public Relations. "With Bully Busters Unite, we feel we've found that program and we couldn't do it without the support of our friends at Susquehanna Health."
Speaking about their involvement, Susquehanna Health Director of Corporate Communications Tracie Witter stated, "Susquehanna Health knows that healthy behaviors also include positive actions toward each other. Working with the Crosscutters to reinforce the value of positive behaviors to area youth supports our mission to create a healthier community."
Developed with the assistance of Bruce Productions, a production company based in Wilmington, Delaware, the Bully Busters program kicks off this May in Williamsport area schools and continues this fall in elementary schools throughout the Susquehanna Valley.
Each assembly will star "Boomer" and Cutters staff members, who will engage students in recognizing bullying behavior and exploring what to do should they witness or experience bullying of any kind.
At the conclusion of each interactive assembly, students will be asked to take the "Bully Buster Pledge" both in school and at home with their families. Students who do so will be rewarded with two complimentary tickets to a select Cutters game in June. The Crosscutters will also provide teachers and counselors with a take-home activity book for students, further reinforcing the importance of the anti-bullying message.
Kirk Felix, Principal of Stevens Elementary School in Williamsport said, "We at Stevens Primary in the Williamsport Area School District are happy to assist the Crosscutters with launching their Bully Busters Unite program. 'Developing responsible citizens through excellence in education' is our District's mission statement. We appreciate the Cutters interest in supporting our students, staff and families with learning how to take responsibility when it comes to bullying. The children love Boomer and we look forward to him helping teach children and their parents about appropriate behaviors."
School administrators interested in booking a Bully Busters Unite assembly can contact Sarah Budd, the Crosscutters Director of Community Relations at (570) 326-3389 x1200 or sarah@crosscutters.com.
The Crosscutters 2014 season opens on June 13 at Susquehanna Bank Park at Historic Bowman Field. Season tickets, bonus books and group packages are currently available and can be purchased online at www.crosscutters.com or by calling the Cutters at (570) 326-3389.
This article originally appeared on the official website of the Williamsport Crosscutters. Click here to view the original story.