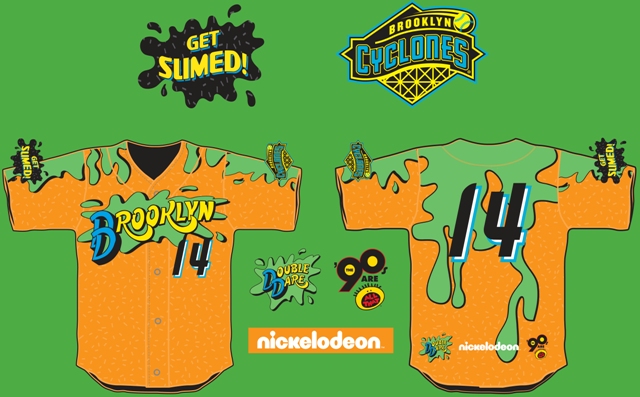 On Wednesday, August 27th the Brooklyn Cyclones and Staten Island Yankees will square off at MCU Park on 90s Night at the ballpark.  As part of the evening's festivities, the Cyclones will be wearing special Nickeldeon "90s Are All That" jerseys that will be raffled off throughout the game with all proceeds to benefit the ALS Association.  To kick things off, the Cyclones front office had their own twist on the "Ice Bucket Challenege" with the Slime Bucket Challenge thanks to our friends at Nickelodeon.

During the game on August 27th, fans will have the chance to make a donation to ALS and then join the team on the field post-game to participate in the ice bucket challenge around the infield.  It's going to be a great night, to benefit a great cause.
"We'll be celebrating alot of things from the 90s that will make people say 'Oh yeah, I remember that,'" said Cyclones Vice President Steve Cohen.  "And we hope that through all of the money raised through the ice bucket challenege and other events like our jersey raffle, that in the not-to-distant future people will be able to make Lou Gehrig's disease a distant memory as well."
All tickets for the game on August 27th will have special throwback pricing of just $10.
This article originally appeared on the official website of the Brooklyn Cyclones . Click here to view the original story.