Here is a link to the original story on the team's website.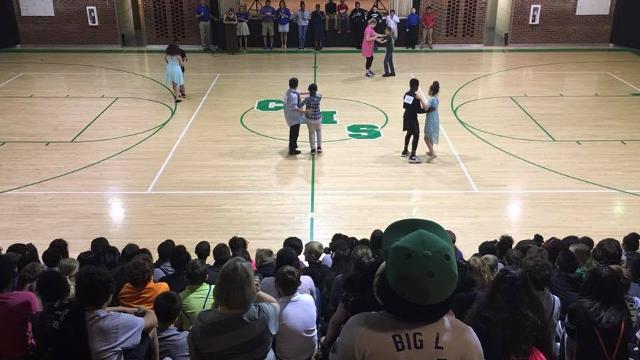 WHITAKER BANK BALLPARK (Lexington, KY) – The Lexington Legends are proud to conclude another successful year of "Dancing With The Students" with Crawford Middle School students during 2018 Arts Night. The finale will be held in the gymnasium of Crawford Middle School on Friday, April 27 at 6 p.m. Media is welcome to attend the finales for photographs and interviews with the students.
Dancing with the Students is a non-profit organization based out of Philadelphia, Pennsylvania originally founded in 2005 by Lexington Legends Secretary and Principal Sue Martinelli Shea. The program came to Lexington after Legends President and CEO, Andy Shea, won the Dancing with the Stars of Lexington Competition with Arthur Murray Dance Instructor, Rae Mickelwait. "As an Arthur Murray ballroom dance instructor, I am so excited to be participating in my third Dancing with the Students Grand Finale with Crawford Middle School! A big thank you to the Lexington Legends for sponsoring such a wonderful program, that uses ballroom dance, my career and passion, to teach life-skills, respect, positive self-image and teamwork," said Mickelwait.
"I am so honored that the Legends and Crawford Middle School have partnered up for another year of Dancing with the Students. I am very proud of my Mother and the program she has helped to create. I cannot wait to see the finale and all the hard work the students have put into their dances!" said Legends President and CEO, Andy Shea.
Students involved in the competition are in sixth, seventh and eighth grade and focus on not only ballroom dancing, but other skills such as respect, manners and positive self-image. Through a partnership between their Physical Education class as well as Arts and Humanities, students learn four dances: Waltz, Tango, Merengue and Swing while also learning the history behind the social dances and cultures. Local Arthur Murray Trained dance instructor, Mickelwait, trains the students on all aspects of ballroom dancing. "I am so thrilled with the partnerships among the Lexington Legends, Dancing with the Students and Crawford Middle School," said Legends Secretary and Principal, Sue Martinelli Shea. "The students are the winners every time!"
In Margaret Van Hook Stevens' Arts and Humanities course, students learn the history behind ballroom dancing and how it can have positive impacts in their lives. Van Hook Stevens' grandfather was a farmer from Winchester, Kentucky who won a Waltz competition which earned him an invitation to dance at MGM Studios in the 1930's. In her classroom, she says she "stresses the importance that your hobby or your extracurricular activity you participate in could one day provide open door opportunities or extra income because of skills learned. Dance provided extra income for my grandfather and his family in the 1930's and dance provides additional income for my family today."
Also during 2018 Arts Night will be the CMS Art Gallery Walk. Students have spent the past 18 days creating 57 different sketches in their Arts and Humanities Class which can be viewed throughout the event, as well.
For more information about Dancing with the Students, visit www.dancingwiththestudents.org or contact Jillian Waitkus at jwaitkus@lexingtonlegends.com or 859-422-7847.
The Legends, a Class A affiliate of the Kansas City Royals and a member of the South Atlantic League, will return home to Whitaker Bank Ballpark to face the West Virginia Power on April 27, 2018 at 7:05 pm. For ticket information, call (859) 422-7867 or visit lexingtonlegends.com.
This story was not subject to the approval of the National Association of Professional Baseball Leagues or its clubs.