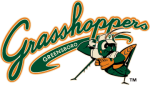 The Joseph M. Bryan Foundation announced Thursday that Donald Moore, President and General Manager of the Greensboro Grasshoppers, earned its 2010 Unsung Community Hero Award.
The Bryan Foundation awards this honor annually in recognition of individuals who have made significant contributions to the community, but whose good works are not widely recognized.
"I am extremely humbled to have been selected from amongst my peers for this prestigious distinction," said Moore. "As a life-long resident of Greensboro, I have tremendous passion for this community and the potential that it holds."
Carole Bruce, a member of the board of directors of the Bryan Foundation, presented the award to Moore during the Bryan Foundation's annual luncheon and meeting, with his family and staff present.
As part of the award, the Bryan Foundation will give $25,000 to the Atlantic Coast Conference in Moore's honor to be used on behalf of the ACC Baseball Tournament that will be hosted in May at NewBridge Bank Park.
Under his leadership, the Hoppers have welcomed over 2.1 million fans in their first five seasons, becoming the only Class A team in the history of Minor League Baseball to draw over 400,000 fans and grow its attendance four straight years in a new ballpark.
The Grasshoppers were the proud recipients of the South Atlantic League's Club Merit Award four of the past five years, with Donald garnering additional accolades as the league's General Manager of the Year Award in 2005, 2006, 2007 and 2008.  Baseball America honored Moore and the Grasshoppers with the prestigious Bob Freitas Award for the Single-A level in 2008.
Moore has created several college scholarship funds, including the Bill Lee Memorial Scholarship and the Charlie Harville Memorial Scholarship. He currently sits on the board of The Bryan Family YMCA, The Guilford County Sports Hall of Fame, Downtown Greensboro, Inc., and is President-Elect of the Greensboro Sports Council.