Here is a link to the original story on the team's website.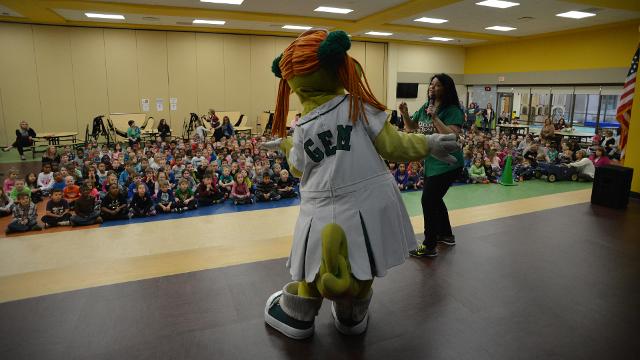 Dayton, Ohio-Opening night for the 2018 baseball season is 10 weeks away, but Dayton Dragons mascots Heater and Gem along with the Dragons Green Team are already bringing the excitement of baseball season to local elementary schools. For the sixth straight year, the Dragons entertainment team is performing assemblies at Miami Valley elementary schools. The program continues into April.
Each 30-minute interactive, fun, high-energy performance includes a visit by Heater or Gem and members of the Green Team, the Dragons signature group that facilitates skits, contests, and sing-a-longs during Dragons games at Fifth Third Field. Each assembly in 2018 focuses on "Teamwork." The performances, typically held in the school gymnasium, include some of the same entertainment skits seen at the ballpark, plus some new material designed specifically for the schools.
All Dragons assemblies are performed free of charge for schools that sign up. Participating elementary schools on board so far stretch from Springboro to Sidney.
The assemblies provide an introduction to the Dayton Dragons School Program, an incentive-based school fundraiser that provides prizes to students and allows the schools to keep a portion of ticket sales to Dragons games.
The Dragons are providing prizes as part of the program including team merchandise, an invitation to a Donatos Pizza Party with Dragons players, and the grand prize, a Google Chromebook.
The Dragons 19th Opening Night is set for Saturday, April 7 at 7:00 p.m. at Fifth Third Field against the Bowling Green Hot Rods. The Dragons will officially open the 2018 Midwest League season on the road on Thursday, April 5 against the Hot Rods in Bowling Green, Kentucky.
###
This story was not subject to the approval of the National Association of Professional Baseball Leagues or its clubs.