Here is a link to the original story on the team's website.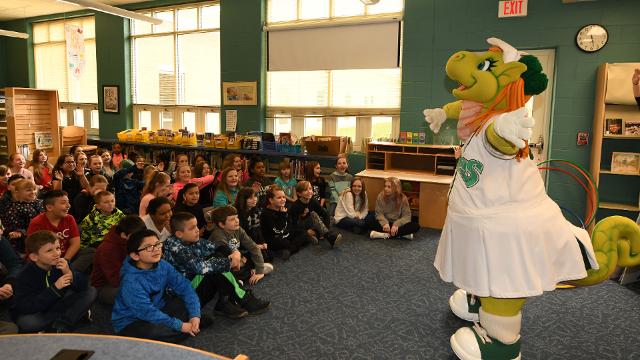 DAYTON, Ohio – Dayton Dragons players and one of the team's mascots, Gem, are visiting schools in two different counties across the Miami Valley this week. The visits are part of the Dragons MVP program and members of the local media are invited to cover them. The players will introduce themselves to the students, answer questions, and are available for pictures. Each student will also receive a school folder and a Dragons pencil. The following schools are listed with an address, date, and time of visit:
The Dragons visited Weller Elementary, 9600 Sheehan Rd. in Dayton today.
Wednesday, April 18, 2018
10:00am – 10:45am
Newton Elementary
201 N. Long St.
Pleasant Hill, OH, 45359
Phone: 937-676-3081
11:15am – 12:00pm
Hook Elementary
729 Trade Square W.
Troy, OH, 45373
Phone: 937-332-6760
The Dragons MVP Program, a tool for teachers, uses the marketing power of Dayton Dragons Baseball as an educational tool for fourth and fifth grade teachers, helping them motivate and reward students for success both in and out of the classroom. The Dayton Dragons MVP Program presented by Bob Evans Farms is also made possible by CollegeAdvantage, Sinclair College, WDTN-TV and Dayton's CW. For more information on the Dragons MVP Program, contact the Dayton Dragons or visit www.daytondragons.com/mvp.
More Information: The Dayton Dragons are the Midwest League affiliate of the Cincinnati Reds and play a 70-game home schedule at beautiful Fifth Third Field in downtown Dayton, easily accessible from Interstate 75. Individuals and groups seeking information about Dayton Dragons group tickets, lawn tickets, the season ticket wait list, sponsorship opportunities or booking a Dragons speaker are encouraged to contact the Dragons by calling at (937) 228-2287, emailing at dragons@daytondragons.com, or on the web at daytondragons.com.
—end–
This story was not subject to the approval of the National Association of Professional Baseball Leagues or its clubs.