Here is a link to the original story on the team's website.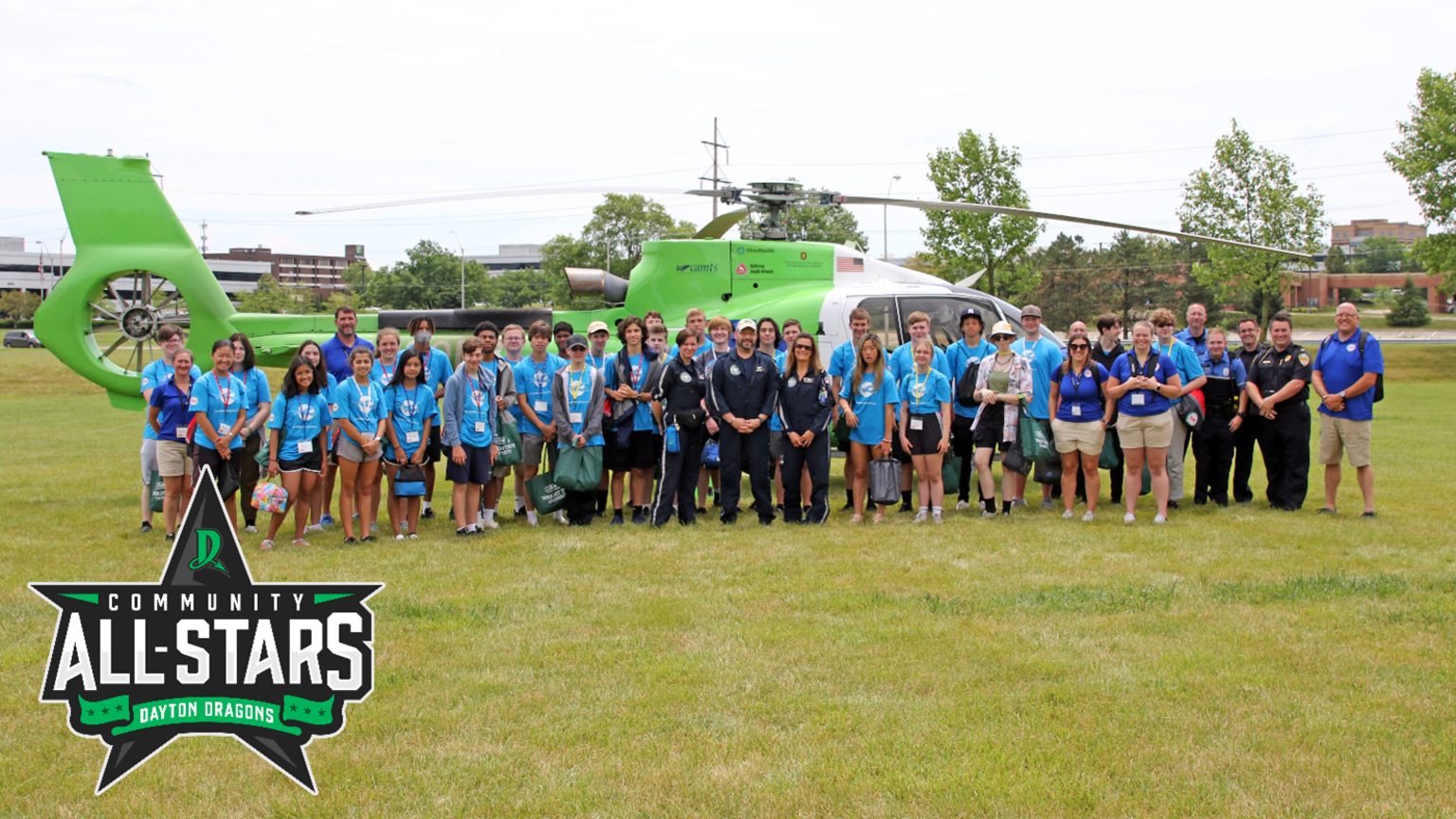 Dayton, Ohio — The Dayton Dragons will recognize a "Community All-Stars" recipient during a special inning break of the Dragons game tonight, Thursday, June 2nd, against the South Bend Cubs at Day Air Ballpark in the heart of the Water Street District. The game will start at 7:05 p.m.
The Dragons Community All-Stars Program honors individuals who have gone above and beyond to improve the quality of life in the Miami Valley. They could be firefighters or police officers, doctors or good Samaritans. It could be a first responder or a volunteer. The Dragons are going to highlight these Community All-Stars at games all summer long.
More than a decade ago, a group of Dayton business leaders got together to brainstorm how to get more kids exposed to adventures and careers in aviation, aeronautics, and other STEM (Science, Technology, Engineering and Math) related fields.
What came of those meetings was more than just a curriculum, it was an adventure for campers that has now become known as Air Camp, and it's based right here in the Dayton region.
Air Camp provides campers from 4th grade through high school with a hands-on, educational adventure in aviation and aeronautics every summer. Each camp offers something specific for students and they're all bolstered with resources to continue their growth in STEM education. There are even camps that teachers can be a part of that allow them to take the curriculum back to all of their students in the fall.
Air Camp students take flight ground school, chart their course and fly as a student pilot. They also explore exciting aviation sites around Dayton, and they get to go behind the scenes and meet scientists from the Air Force Research Laboratory at Wright Patterson AFB.
The first Air Camp back in 2010 started with just 40 students, but since those humble beginnings, their reach has soared, connecting with over 33,000 students and 88 teachers from 33 states just last year.
Expanding Air Camp's mission and their programming is made possible only through the generosity of local donors, and their fundraising efforts make it possible for them to make the program accessible and affordable to anyone who wishes to be a part of the camp. There is so much more on the horizon for Air Camp, and each donor is pivotal to opening greater opportunities for every camper.
For all their efforts to bring STEM education to all, Air Camp is being honored as a Dragons Community All Star. If you want to learn more about how you can help support Air Camp check out their website at aircampusa.org/.
If you know other great individuals or organizations that are going above and beyond for our community, tell us about them! You can nominate an All-Star by telling us about them at daytondragons.com/communityallstar
This event is the first of five special Community All-Stars spotlights at Dragons games this season. Community All-Stars is presented Flying Ace Express Carwash. Additional tributes are scheduled for July 22, August 10, and September 1 each focused on a different individual or organization who have gone above and beyond to improve the quality of life in the Miami Valley.
The Dragons play at beautiful, downtown Day Air Ballpark in the heart of the Water Street District and are scheduled to play 42 more home games during the regular season. Game times are 7:05 p.m. for Tuesday through Saturday games and 1:05 p.m. on Sundays. No Monday games are scheduled at this time. Gates open one hour prior to game time. Single-game tickets for all Dragons 2022 home games are available at www.daytondragons.com or by phone at (937) 228-2287.