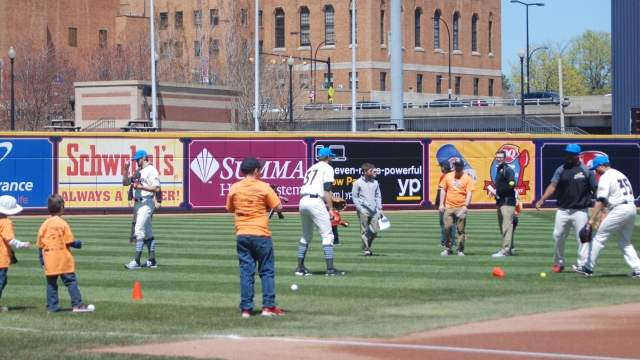 (AKRON, OHIO) May 4, 2015 – The Akron RubberDucks hosted the Oak Clinic for Multiple Sclerosis' second annual Diamond Oak fundraiser during the Sunday, April 26 game at Canal Park, helping to raise almost $60,000 of dollars for MS awareness.
Funds were raised through a pre-game 1K Fun Run on the field and family catch in the outfield, and the Oak Clinic's ticket sales for the game. The 1K Fun Run had 108 children participating and the almost 1,000 tickets were sold by the Oak Clinic.
"On behalf of the Oak Clinic for Multiple Sclerosis, I would like to thank the Akron RubberDucks for their support of our MS community. The overwhelming support from our friends, family, and community assisted the Oak Clinic in both raising almost $60,000 and educating over 2,200 grade school students about MS," said Oak Clinic Director of Development Sue Arnold.
"We are proud to partner with the Oak Clinic and help raise funds and awareness to such a great cause," said RubberDucks General Manager Jim Pfander. "On behalf of the Akron RubberDucks, I want to thank everyone from the kids who raised money to participate in the pre-game Fun Run, to the volunteers, patients, families and supporters of the Oak Clinic who attended the game. Seeing the Canal Park filled with fans wearing orange to recognize MS awareness was a humbling moment and we are excited to help the community and those affected by MS."
The Akron RubberDucks are the Double-A affiliate of the Cleveland Indians. The 2015 season is its 19th since moving to Canal Park and its second as the RubberDucks. For more information featuring the Akron RubberDucks, go to www.AkronRubberDucks.com or call 330-253-5151. They are on Facebook at www.facebook.com/AkronRubberDucks and Twitter at @AkronRubberDuck.
This article originally appeared on the official website of the Akron RubberDucks. Click here to view the original story.