Score 200 Pounds of Coffee for the Food Bank of the Southern Tier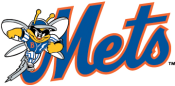 Binghamton Mets officials joined Dunkin' Donuts franchisees to donate 200 pounds of coffee to the Food Bank of the Southern Tier prior to the Mets' final game of the season on Labor Day. The donation – the equivalent of more than 10,000 cups of coffee – was fueled by a season-long partnership between the Mets and Dunkin' Donuts.
During the 2012 season, Dunkin' Donuts pledged to donate one pound of coffee to the Food Bank for every double play turned at home by the Mets. Led by a cast of infielders, Binghamton recorded 52 double plays at home to generate a 52 pound donation of Dunkin' Donuts coffee to the Food Bank. Dunkin' Donuts and its Southern Tier franchisees contributed an additional 148 pounds to bring the total donation to 200 pounds of Dunkin' Donuts coffee.

"Our partnership with the Binghamton Mets is designed to capture the excitement of each double play and turn it into a tangible benefit for the Food Bank of the Southern Tier," said Eric Stensland, upstate New York field marketing manager for Dunkin' Donuts. "Binghamton players did a terrific job this season and we're proud to make a donation to an organization that continues to have such a positive impact on the community."

"Many of us look forward to a cup of coffee each morning and see it as an essential part of starting our day," said Missy Goetschius, community and public relations manager for the Food Bank of the Southern Tier. "We are extremely grateful that Dunkin' Donuts and the Binghamton Mets teamed up to give back to our food bank. Now we can provide coffee for thousands of residents in need throughout our area."
Each week, over 11,000 individuals visit a hunger-relief agency served by the Food Bank of the Southern Tier. In 2011, the Food Bank distributed nearly seven million pounds of food to neighbors in need across the six Southern Tier counties of Broome, Chemung, Schuyler, Steuben, Tioga, and Tompkins.
"The Binghamton Mets are proud to take part in this outstanding initiative to benefit the Food Bank," said Binghamton General Manager Jim Weed. "Our organization is deeply committed to giving back to our fans and to the community at large. Dunkin' Donuts has been a great partner and we applaud its commitment to the Food Bank and those it serves."
The Dunkin' Donuts and Binghamton Mets partnership has included a number of fan and community initiatives at NYSEG Stadium during the 2012 season.