Generals to host concert, Easter service with Englewood Baptist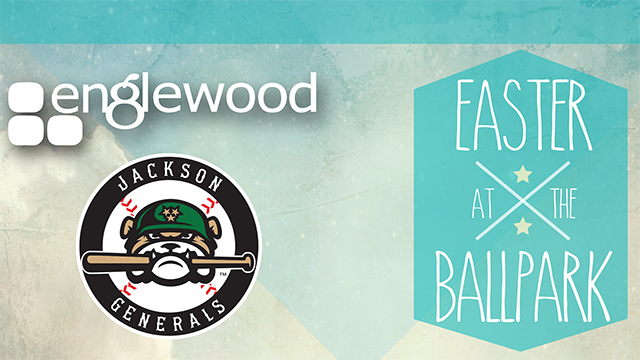 The Jackson Generals are proud to partner with Englewood Baptist Church on Easter Weekend festivities at the Ballpark in Jackson. The church will a concert and fireworks show on Saturday, April 4 and a service and egg hunt on Easter Sunday. Admission to all events is free of charge.
The weekend will begin on Saturday night with a concert headlined by contemporary Christian music artist Travis Cottrell at 7 pm. Cottrell has been nominated for 16 GMA Dove Awards in his musical career, winning two times. His 2011 single "When the Stars Burn Down" debuted atop the Billboard Praise and Worship Chart. He currently serves as the Worship Pastor at Englewood Baptist Church.
Christian hip-hop and spoken word artist Propaganda will also perform at the Ballpark on Saturday night. Fireworks provided by the City of Jackson will follow the show at approximately 9 pm. Gates open on Saturday at 5:30 pm.
Englewood Baptist Church, one of the largest religious institutions in Jackson, will hold their Easter service at the Ballpark at 10 am on Easter Sunday, April 5 with gates opening at 8 am. The service will include music from the Englewood choir and a message from Senior Pastor Jordan Easley. An Easter Egg Hunt will follow the service at 11 am in the outfield.
"We are extremely excited to host Englewood Baptist Church at our ballpark Easter weekend," Generals' General Manager Jason Compton said. "This a fantastic opportunity for the Generals. We hope that the Ballpark at Jackson can be a venue for more events like this in the future."
The Jackson Generals will be providing buffets for both breakfast and brunch on Easter Sunday. Tickets must be purchased from the Generals in advance for both. Breakfast will begin when gates open at 8 am for $10 per person, and brunch will follow the service at 11:30 am for $12 per person. A menu for both meals can be found on the attached flyer.
Additionally, concession stands at the stadium will be open and serving breakfast food for purchase for those who did not buy a buffet ticket in advance.
This is the first time the Generals have hosted Englewood's Easter Services. For more information on the weekend's events, visit englewoodeaster.com.
For more information or to buy your buffet tickets, call the Jackson Generals at (731) 988.5299 or visit the Ballpark at Jackson.
This article originally appeared on the official website of the Jackson Generals. Click here to view the original story.