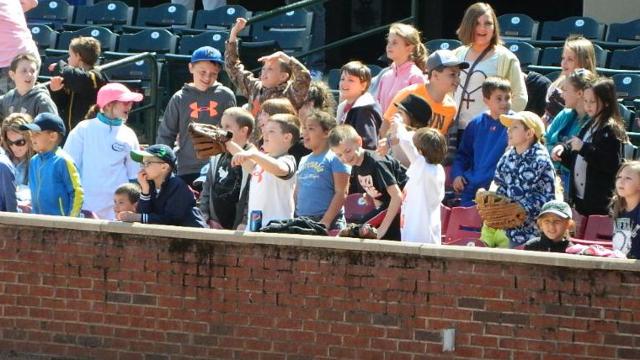 Hello from Whitaker Bank Ballpark!

The Lexington Legends are happy to announce that we will continue the tradition of award-winning, family-friendly entertainment for students, teachers, administrators, and parents through our Education Day Program presented by Zaxby's. Our Education Day games consistently sell out with schools traveling from around the region to attend! As the name suggests, Education Day is about educational opportunities as well as a fun day at the ballpark.
The dates for the 2015 Education Days are as follows and we sincerely hope that one of them will work for your class schedule in the Spring:
         Wednesday, April 22nd @ 10:05 AM vs. Greenville Drive (Boston Red Sox)
         Wednesday, April 29th @ 10:05 AM vs. Rome Braves (Atlanta Braves)
         Monday, May 11th @ 10:05 AM vs. Kannapolis Intimidators (Chicago White Sox)
We play these games at 10:05 AM to allow teachers and students to take a field trip during the school day and enjoy America's Pastime, Lexington style. Baseball has played a significant role in American history and the civil rights movement, and every game is filled with scientific and mathematical learning opportunities. New this year, we will incorporate an educational curriculum that you can use in the classroom prior to the day of the game and also on game day. It's a great combination that will make your day at Whitaker Bank Ballpark memorable – and educational!
Group Tickets and Add-Ons:
         Discounted tickets available for groups of 20 or more – prices range between $4 and $7 per ticket.
         Sack lunches available for an additional $5 each and includes the following:

o   Zaxby's chicken finger sandwich comprised of three chicken fingers on a toasted bun with Zax sauce
o   Bag of chips
o   Soft drink

  We deliver these to your students in their seats meaning you do not have to journey around the ballpark with your kids looking for lunch while here.
We are taking reservations now for groups to attend these games so please contact your Account Executive or call the Lexington Legends Ticket Office at 859-252-HITS (4487) to reserve your seats now while they are still available. You can also reply to this email to make your reservation or seek more information.
Have a great day and Go Legends!
This article originally appeared on the official website of the Lexington Legends. Click here to view the original story.