Double-headers scheduled for Friday and Saturday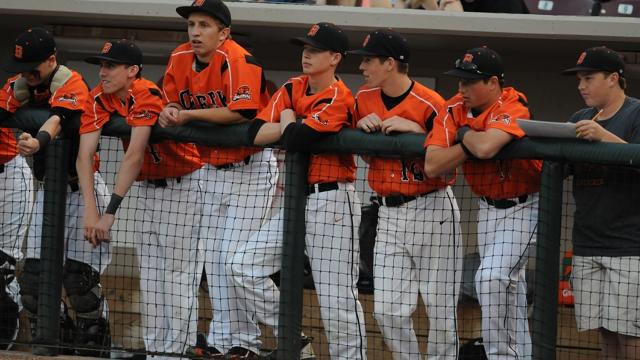 Dayton, Ohio- Fifth Third Field and the Dayton Dragons will host high school baseball for the ninth straight season in 2014 with the action starting on Tuesday, April 8 at 4:30 p.m. Overall this spring, 30 high schools will play regular season games at the home of the Dragons.
High school baseball at Fifth Third Field also serves as a fundraiser for the participating schools. This year's series of games will raise approximately $30,000 for the schools to help with the cost of uniforms, equipment, and bus transportation.
All games are sponsored by MAC Athletics, experts in athletic facility planning, design, construction, and equipment acquisition. Go to macathletix.com for more information on their services.
Friday's twin bill features St. Henry and Coldwater at 5:00 p.m., followed by Coldwater and Marion Local at 7:30 p.m.
The St. Henry Redskins are off to a 3-1 start on the year and are only one-half game out of first place in the Midwest Athletic Conference standings. They will square off with a very young Covington Buccs squad, which will turn to OF Justin Williams, 3B Dain Peters and 1B Jake Albright for leadership this season. The Buccs are 2-3 so far this year.
The Coldwater Cavaliers and Marion Local Flyers will play under the Friday night lights in a Midwest Athletic Conference showdown. Coldwater went 22-5 last year and returns seven starters to the field, including senior pitcher Grant Muhlenkamt and junior RF Brady Hoyne. Marion local is 4-1 on the season, good for first place in the league standings. They are led by sophomore Aaron Niepfeld, who hit .426 last season, and lone senior Austin Albers. The Flyers are led by first year head coach Dustin Woods.
Saturday afternoon features two more outstanding matchups. Lehman Catholic will battle Fairborn at 1:00 p.m. and Greenon hosts Northeastern at 4:00 p.m.
Lehman Catholic, members of the Northwest Central Conference, had a solid season last year and returns a number of key players in 2014. Drew Westerheide is the squad's lone senior, while juniors Greg Spearman and AJ Hemmelgarn anchor the left side of the infield. Head coach Dave King recently picked up his 500th career coaching victory. Fairborn is led by Ryan Profitt and Ty Boedicker, who each have a hit in five of their first 11 at bats this spring. Brent Grody (1-0) has nine strikeouts through five innings pitched.
The Greenon Knights will battle the Northeastern Jets in the final game of the weekend. Greenon returns seven players from last year's squad and has started the season with excellent pitching, thanks to Dustin McReynolds and James Schroeder.
The Dayton Dragons have been hosting the Miami Valley's best baseball teams since 2006 and are proud to continue the tradition for a ninth year. A complete list of high school baseball games scheduled to be played at Fifth Third Field can be found at daytondragons.com.
All games are free to attend and the media are invited to cover them. Gates will open one hour prior to the first game played that day. High schools may provide their own PA announcers, cheer squads, and national anthem singers. Some even bring their own radio broadcasters to the ballpark. Participating high schools sell Dragons tickets to help raise money for their programs.
–See remaining schedule below–
| | | | | |
| --- | --- | --- | --- | --- |
| Day | Date | Time | Home Team | Away Team |
| Friday | 4/11 | 5:00 PM | St. Henry | Covington |
| Friday | 4/11 | 7:30 PM | Coldwater | Marion Local |
| Saturday | 4/12 | 1:00 PM | Lehman Catholic | Fairborn |
| Saturday | 4/12 | 4:00 PM | Northeastern | Greenon |
| Monday | 4/21 | 7:00 PM | Arcanum | Franklin-Monroe |
| Thursday | 4/24 | 4:30 PM | Lebanon | Piqua |
| Thursday | 4/24 | 7:00 PM | Sidney | Wayne |
| Friday | 4/25 | 4:30 PM | Dayton Christian | Troy Christian |
| Friday | 4/25 | 7:00 PM | Vandalia-Butler | West Carrolton |
| Saturday | 4/26 | 11:00 AM | Valley View | Greenville |
| Saturday | 4/26 | 4:00 PM | Beavercreek | Miamisburg |
| Sunday | 5/4 | 4:00 PM | Fort Loramie | New Knoxville |
More Information: The Dayton Dragons are the Midwest League affiliate of the Cincinnati Reds and play a 70-game home schedule at beautiful Fifth Third Field in downtown Dayton, easily accessible from Interstate 75. Individuals and groups seeking information about Dayton Dragons group tickets, lawn tickets, the season ticket wait list, sponsorship opportunities or booking a Dragons speaker are encouraged to contact the Dragons by calling (937) 228-2287, by email at dragons@daytondragons.com, or on the web at daytondragons.com
This article originally appeared on the official website of the Dayton Dragons. Click here to view the original story.