11th Annual Event Takes Place on Saturday, September 7th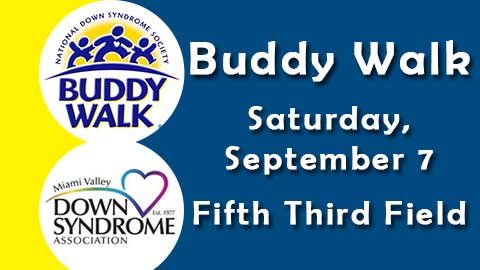 Dayton, Ohio – Fifth Third Field will host the 11th Annual Miami Valley Down Syndrome Association Buddy Walk on Saturday, September 7th from 9 a.m. – 12 noon. The Buddy Walk, which raises awareness and promotes inclusion for individuals with Down Syndrome, will take place at Fifth Third Field for the second-consecutive year. Registration is open to the public and costs $10 for anyone aged nine or older, with every dollar benefitting the MVDSA.
Fifth Third Field will open its gates for day-of registration starting at 8:30 a.m. on September 7th, but pre-registration is available at http://mvdsa.donordrive.com/index.cfm?fuseaction=donorDrive.event&eventID=500. Donations will also be accepted online or at the registration table.
Activities around the ballpark begin at 9 a.m. The Entertainment Fun Zone will be open with face painters and games. Dragons mascots Heater and Gem will roam the concourse and take pictures with those in attendance. The one-mile walk around Fifth Third Field begins at 10 a.m., with the post-walk fun continuing until noon when raffle prize winners will be announced.
ABOUT THE MVDSA
The Miami Valley Down Syndrome Association is a network of parents, health care providers, volunteers, family members, and community supporters providing help and support to people throughout the Miami Valley with Down Syndrome. Through the generous support of the community, the MVDSA is able to develop programs and services that will help to enhance the quality of life for individuals with Down Syndrome. For more information, visit their website at http://www.mvdsa.org/
This article originally appeared on the official website of the Dayton Dragons. Click here to view the original story.