The Pulaski Mariners help raise over $6,400 for Billy Wagner's SCLC foundation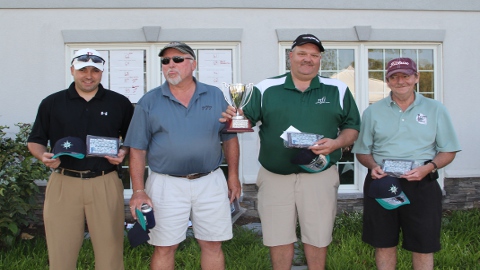 PULASKI, VA – Last Friday at the Pulaski Country Club was a jam-packed, fun-filled day of golf, silent auctions, food, and chances to interact with standout athletes with roots in Southwest Virginia. Billy Wagner and Shayne Graham were on hand throughout most of the morning to promote the Second Chance Learning Center (SCLC) charity and to meet-and-greet with participants in the morning and throughout the early afternoon.The winning team from the entire tournament consisted of Kenny Myers, Matt Williams, Butch White, and John Hawley. The foursome finished with a score of 56 to win the tournament, but the biggest win of the day was raising over $6,400 for the Second Chance Learning Center.
"The day was an all-around success," said Mariner's GM Abby Lyman. "We achieved much more than we anticipated, but more importantly we raised awareness for a great cause." Lyman went on to say, "We appreciate Billy and Shayne's participation, and look forward to partnering with them and the SCLC in the future."
The tournament featured two separate tee times, one in the morning and the other in the afternoon. Great weather allowed for an outside silent auction that featured items from the Pulaski and Seattle Mariners, all of the other Appalachian League teams, memorabilia from Billy Wagner, and other assorted items.
Wagner, a Southwest Virginia native, played in the Major Leagues for 16 seasons with five different teams and was a 7-time All-Star. Graham, as a placekicker, played collegiate football for Virginia Tech and also graduated from Pulaski County High School. He has played in parts of 11 seasons for seven NFL teams, most notably the Cincinnati Bengals.
The SCLC currently features locations in Bluefield and Tazewell, with plans for a future Pulaski location being discussed. The SCLC offers free tutoring, mentoring, and counseling for middle and high school students with educational and social needs.
The Pulaski Mariners would like to thank all participants, sponsors, and everyone who donated to the tournament that helped make the day's events possible and such a tremendous success.
This story was not subject to the approval of the National Association of Professional Baseball Leagues or its clubs.
This article originally appeared on the official website of the Pulaski Yankees. Click here to view the original story.