IronPigs to raffle off special caps for prostate cancer awareness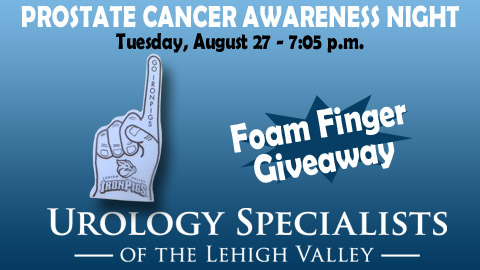 In recognition of Prostate Cancer Awareness Night, the first 3,500 fans 18 and older will receive a sky blue foam finger giveaway presented by Urology Specialists of the Lehigh Valley (USLV) when the IronPigs and Buffalo Bisons wrap up their series at Coca-Cola Park on Tuesday at 7:05 p.m.
In an effort to raise both funds and awareness for the disease, IronPigs players and coaches will wear commemorative sky blue caps during Tuesday's game with proceeds from an in-game raffle benefitting The Prostate Cancer Awareness Fund of the Lehigh Valley.
"Unfortunately, research shows that one in six men will be diagnosed with prostate cancer during his lifetime," said Charlie Fenstermaker, Chief Operating Officer of the Urology Specialists of the Lehigh Valley. "However, with early detection and advances in technology, survival rates among those diagnosed are at an all-time high."
The physicians of USLV are offering a free health assessment, including a prostate screening, on Saturday, September 7, from 10 a.m. to 2 p.m. at the USLV Radiation & Imaging Center located at 5018 Medical Center Circle in Allentown. The free assessment includes a blood pressure test, a PSA blood test and a Digital Rectal Exam (DRE). For directions or to pre-register for the Health Assessment and Education Fair, visit uslv.net/register.
Added IronPigs General Manager, Kurt Landes: "Prostate Cancer Awareness Night is about pointing our attention to the importance of early detection and screening and getting the message out to adult men and their loved ones."
According to recently published statistics, prostate cancer is the second leading cause of cancer death among American men and is the most commonly diagnosed with nearly 240,000 new cases of prostate cancer expected this year. Currently, there are more than 2.5 million American men living with the disease – roughly equal to the population of Chicago.
Urology Specialists of the Lehigh Valley (USLV) is one of Eastern Pennsylvania's largest and fully-integrated urology practices, with 12 physicians and 6 office locations serving patients from Lehigh, Berks, Northampton, Carbon, Bucks, Monroe, and Warren counties. A combination of experienced and fellowship trained physicians, we are specialists in the field of Urology, with collective expertise in the diagnosis and treatment of prostate cancer, utilizing the latest technology including robotic surgery and GreenLight laser surgery for BPH.
To schedule a prostate screening or for additional information, visit uslv.net or call (484)-UROLOGY.
Additionally, fans will be able to play TD Bank Ballpark Bingo throughout the contest, which takes place every Tuesday throughout the season. The Morning Call autograph sessions which usually takes place on Mondays will be held on Tuesday evening, with two players (TBD) signing autographs on the concourse from 6-6:20 p.m.
Fans are reminded that Dauphin Street will be closed in both directions between Long Drive and American Parkway through Oct. 6 for work on the completion of American Parkway. Long Drive, just north of Union Boulevard, is the access road to the parking area for Coca-Cola Park in place of Dauphin Street. Preferred/Handicapped Parking access is available via American Parkway only.
The cost of parking in Coca-Cola Park's "Pig Tail Porking Spaces" is $3 per vehicle for all IronPigs home games.
Single-game tickets, mini-plan packages and group tickets for all IronPigs home games presented by Capital BlueCross, are on sale now and can be purchased at the Coca-Cola Park Ticket Office, online at www.ironpigsbaseball.com or by calling (610) 841-PIGS.
Don't forget to ask about the four-person "islands" in the Red Robin Oasis located directly above the left field bullpens. Each island is covered underneath a thatched roof and includes a circular half-table, cocktail-style seating for the four fans in the party and wait service.
This article originally appeared on the official website of the Lehigh Valley IronPigs. Click here to view the original story.