Money Raised For Turning Point Center of Chittenden County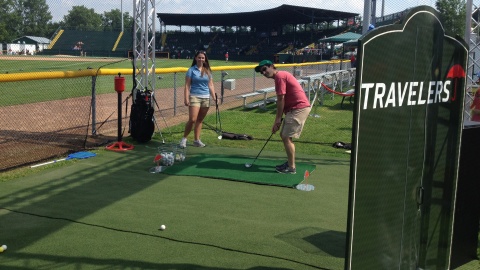 BURLINGTON, VT — On Wednesday, July 4, Travelers, a leading provider of auto, home and business insurance, and the 2012 Vermont Lake Monsters hosted "Travelers Night at the Ballpark." Mayor Miro Weinberger joined fans to "Chip for Charity" at the Travelers Chipping Challenge and Fan Zone, and later threw out the first pitch, helping Travelers raise $5,000 for the Turning Point Center of Chittenden County. Travelers and Mayor Weinberger presented the check on field following the first pitch at Centennial Field.
The Travelers Chipping Challenge is an interactive experience that includes taking a golf shot at a floating green in the shape of the iconic Travelers red umbrella for the chance to win some great prizes. Additional fan activities at the Travelers Night at the Ballpark included the Travelers Putting Challenge, where fans who made two out of three putts received a prize, as well as the Travelers photo experience, where fans posed for their personalized cover of the Lake Monsters game program.Be sure to sign up for the ultimate Travelers VIP experience out at Centennial Field at the fans relations table. The Travelers VIP Fan Experience includes 25 tickets for a lucky winner and his/her friends, on-field access to meet the Vermont Lake Monsters field manager and current players, and a signed Lake Monsters Jersey. The contest runs through Tuesday, August 21.
This article originally appeared on the official website of the Vermont Lake Monsters. Click here to view the original story.