'4 in 24' will see four fields renovated in under 24 hours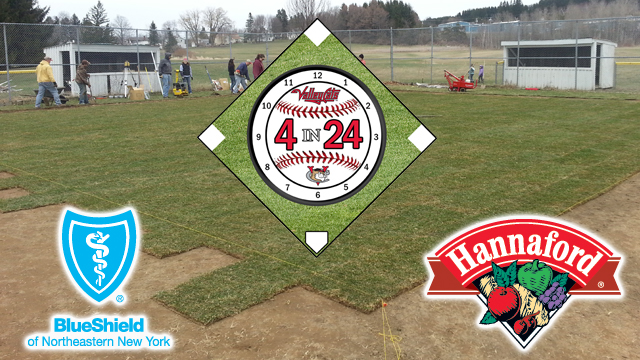 The Tri-City ValleyCats have partnered with BlueShield of Northeastern New York and Hannaford Supermarkets to revamp the ball fields of four local youth baseball/softball leagues: Cohoes Little League, Coxsackie-Athens Little League, Town of Hoosick Youth Baseball/Softball League, and Niskayuna Baseball. Known as the '4 in 24' Extreme Field Renovation Project, the work will take place within a 24-hour time period on Thursday, April 16.
The four fields will receive brand new sod, bases, a home plate and pitcher's mound, and the baselines will be measured to the correct specifications.
Cohoes Little League is implementing a Challenger Program, but the host field has been damaged due to the harsh winter.
"We wouldn't have been able to obtain the field conditions needed to support this program without assistance," said Mike Smith, President Cohoes Little League. "This renovation will give us the opportunity for children with all abilities to have a safe place to play baseball this season."
Coxsackie-Athens Little League has had a softball program for some time, which has gained popularity in recent years. Following the work of the '4 in 24,' the field will be fit enough to become home to the newly formed Coxasckie-Athens Girls Softball.
"Coxsackie-Athens Little League is excited that Rainey Field has been selected by the Tri-City ValleyCats as a '4 in 24' field," said league President Steve VanHoesen. "As volunteers, preparing and maintaining the field is a perpetual struggle. With help of the ValleyCats, Isabella C. Rainey Field will once again be put back atop of that pedestal and reclaim its diamond status in the community."
The Town of Hoosick Youth Baseball / Softball League is still feeling the effects of hurricane flood damage, and their primary field is filled with sandy dirt and large stones.
"We are very excited to have the opportunity to have the ValleyCats organization assist us in providing the best experience possible for our youths," said league president Tony Thayne. "After the flood a few years ago, we have done our best to recover the fields, but are still in need of help in getting them done correctly."
Niskayuna Baseball has seen its league size grow over the past few years, which now consists of 50 teams and approximately 600 players. With the growth comes the need for greater field options and maintenance requirements.
"On behalf of Niskayuna Baseball, its Board of Directors, and most importantly the baseball community that we represent, I want to say thank you for this tremendous opportunity," said Christopher Mennillo, Niskayuna Baseball President. "This renovation will make the playing surface more conducive for multiple age groups, expand the flexibility from a league scheduling standpoint, and better position the league to host future tournaments."
The '4 in 24' is the marquee event and kick-off of the Community Grounds Crew Program, which assists local youth leagues with maintenance and upkeep of their playing fields throughout the spring and summer. This will mark the fifth straight season of the Community Grounds Crew, which the ValleyCats widely consider to be one of their most important yearly initiatives.
"As a part of the Capital Region since 2002, the ValleyCats recognize the importance of being an active member of the community and an ambassador for the great game of baseball," said Rick Murphy, ValleyCats Vice President / General Manager. "Over the years, our field renovation program has been a key component in furthering this mission. Through our partnerships with BlueShield of Northeastern New York and Hannaford Supermarkets, the 4 in 24 program will officially reach 20 fields renovated this year as we seek to provide continued opportunities for our youth to grow and excel."
"BlueShield is proud to continue our support of the '4 in 24' Field Renovations in partnership with the Tri-City ValleyCats and Hannaford Supermarkets," said Dr. Kirk Panneton, Regional Executive and Medical Director, BlueShield of Northeastern New York. "At BlueShield we strongly believe that every child should have the opportunity to explore his or her potential through safe and healthy recreational activities. Playing on a safe and well-maintained field is good for our region's children, and it's good for our community. "
"By helping to improve these playing fields, Hannaford is investing in two of the things that matter most to us – healthy kids and healthy communities," said Brian Fabre, Hannaford community relations specialist. "Hannaford is committed to providing healthy options to our customers and to strengthening our communities. Through this partnership with BlueShield of Northeastern New York and the ValleyCats, we will be helping our young people to play and to compete in a safer, more-enjoyable environment."
The efforts will also be aided by the support of Admar Construction and Turface, who will provide the necessary equipment and materials to complete the renovations. Other support comes from the New York-Penn League Charitable Foundation, whose contributions come from past events held at Joseph L. Bruno Stadium.
This article originally appeared on the official website of the Tri-City ValleyCats. Click here to view the original story.