Recipients of grants for 2014-2015 announced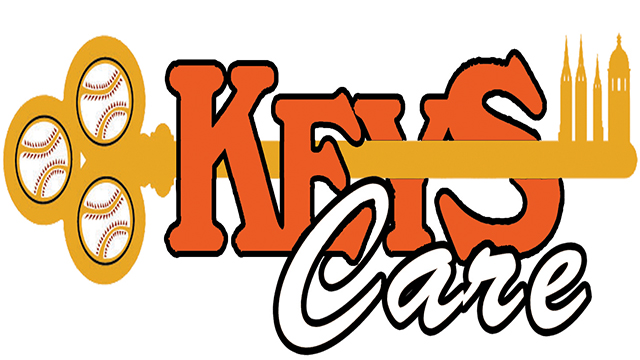 It is with great pleasure that the Frederick Keys, Class A minor league affiliate of the Baltimore Orioles, announce the recipients of Frederick Keys Care grants for 2014-2015. The Frederick Keys Care Fund is a component fund of the Community Foundation of Frederick County. Joel Stephens played in the Baltimore Orioles' minor league system until he lost his courageous battle with colon cancer in 1998 at the age of 22. The fund was established as the Joel A. Stephen's Memorial Fund in 2002 to continue his desire to reach out to youth in need with compassion and encouragement.   In 2011 the fund's name was changed, with the support of Joel's family, to The Frederick Keys Care Fund in order to continue Joel's legacy and to acknowledge the Frederick Keys commitment to furthering Joel's fund.
Since its inception, The Frederick Keys Care Fund has awarded more than $53,000.00 to local youth organizations (including this year's grant amount of $8,696.00). This year's grant money will be divided among five projects for local nonprofit organizations.
Teen Enrichment Program, Project ALIVE of the Housing Authority of the City of Frederick is designed to serve up to 15 teens, focusing specifically on those with aspirations to attend college and will include college visits and a two-day retreat focused on character building and team building. ($2,024.00)
Child Therapy Supplies, Heartly House located in Frederick, Maryland provides, among other things, therapeutic counseling to children who have been the victims of abuse or who have witnessed violence in their homes. Funding is being provided to buy specific supplies to engage children in therapy and enable their recovery as well as provide food for family meals during a concentrated group program called Strengthening Family Coping Resources. ($2,024.00)
Lead4Life-First Chance 4U Young Men's Group Project, in partnership with the Frederick County Department of Juvenile Justice offices, will expand services to males 12-18 years of age who are involved or at high risk of involvement with the criminal justice system through a positive youth development model that is designed to reduce youth recidivism of crime and delinquent behaviors as well as teach how to cope with crisis. ($2,024.00)
Blessings in a Backpack Frederick Schools, provides weekend nutrition to over 320 Frederick elementary school children who depend on the Free and Reduced Meal Program offered Monday through Friday in the schools. This grant will allow Blessings in a Backpack to help more students in need receive weekend nutrition. ($2,024.00)
Homeless Youth Activities, Advocates for Homeless Families, serves youth in the Advocates' programs by providing them with scholarships to participate in extracurricular activities such as sports and clubs during the school year and the Boys and Girls Club of Frederick County's summer "bridges" program that keeps youth actively engaged in learning and fun over summer vacation to prevent summer learning loss and ensure they are ready for the new school year. ($600.00)
The Frederick Keys Care Fund is part of The Community Foundation of Frederick County's Universal Grant Application funding program that takes place in the fall of each year. Nonprofit organizations that provide direct services to our Frederick County youth and young adults may apply on behalf of their programs. Members of the organization(s) who receive funding through "Frederick Keys Care" are invited to attend the luncheon following the annual Frederick Keys Charity Golf Classic to be recognized as the current Fund recipients and again on the field at Harry Grove Stadium prior to a Frederick Keys game as well as other activities that may seem appropriate.
For more information on the grant process and/or how you can donate directly to The Frederick Keys Care Fund please contact The Community Foundation of Frederick County at www.frederickcountygives.org or 301-695-7660.
This article originally appeared on the official website of the Frederick Keys. Click here to view the original story.