Here is a link to the original story on the team's website.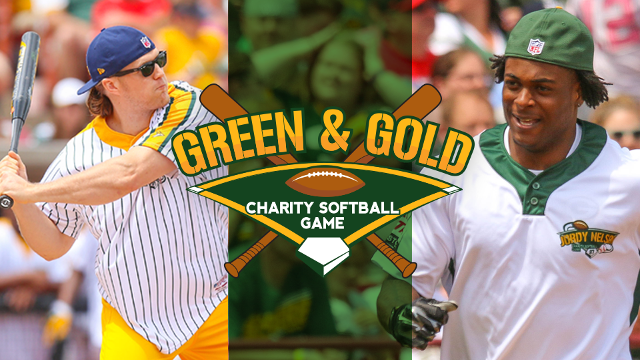 GRAND CHUTE, WI – Jordy Nelson is unable to attend, but the Green & Gold Charity Softball Game at Neuroscience Group Field at Fox Cities Stadium on Saturday, June 2 is on as planned! Clay Matthews and Davante Adams will serve as team captains and the captains will mix up the format this year. Matthews and Adams will draft their squads from their Green Bay Packers teammates to compete in a game of softball instead of the traditional Offense vs. Defense contest. There will be a home run derby at 11:00am and the game is scheduled to begin at 12:05pm.
"I've really enjoyed hosting the softball game the last four years and I'm glad to see it's in good hands with Clay and Davante as co-captains," said Nelson. "I also appreciate that the game will continue to support Young Life as it has in the past. Enjoy the game, Packers fans. I know it will be entertaining as always!"
Tickets remain for the game and are available through the Wisconsin Timber Rattlers Ticket Office. There are reserved bleacher seats ($29), and general admission grass seats ($14).
Box seats, the All-You-Can-Eat section, and patio tables are sold out for the game. Fans who purchased patio table seating for the game will now receive an autographed softball from Davante Adams.
Young Life, an organization for middle, high school and college students that pairs them with adults focused on the things that matter most to kids – fun, adventure and friendship, remains the main beneficiary of this softball game. Founded in 1941, Young Life has more than 3,000 staff and 30,000 volunteers reaching more than 1,000,000 kids annually. Additional charitable partners will also be beneficiaries of this year's game.
The Timber Rattlers box office is open from 9am until 5pm Monday through Friday and from 10:00am to 3:00pm on Saturdays. Fans may call (920) 733-4152 or 800-WI-TIMBER, stop by the box office at the stadium, or order online through timberrattlers.com.
This story was not subject to the approval of the National Association of Professional Baseball Leagues or its clubs.