55 schools and local organizations have participated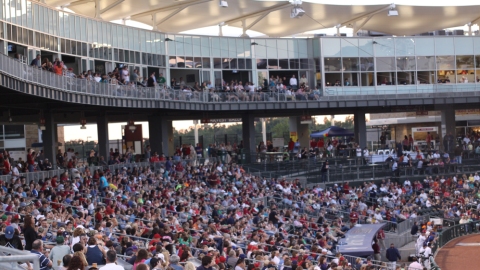 SPRINGDALE, AR – The Naturals, through ticket fundraising programs, have helped local groups raise over $66,000 during the first two months of the baseball season.
Through the first 23 home games of the 2011 Naturals baseball season, 55 local groups comprised of school groups, church groups, and other local organizations have raised $66,462 by coming out to Naturals games and selling tickets for the same game to friends and family members.
Several of these groups have also partaken in activities on the field such as playing the National Anthem, tours of the ballpark, and playing pre-game performances.
The average ticket fundraiser group has raised $1208 with the Naturals this season. 45 of the 55 participating groups raised at least $800 dollars (by selling 200 or more tickets). The total money raised through these programs is already $7,000 more than the money raised all of last season, including playoffs.
"At our core we are a service organization, and we want to help our entire community be successful," said Eric Edelstein, Naturals General Manager. "The dollars raised has far exceeded our expectations, and we can't wait to see these numbers grow through the remainder of our season."
The Naturals currently have availability to help groups raise money all summer long on Sunday through Thursday home games following the July 4th holiday weekend. For more information about fundraiser groups as well as other group offerings, visit nwanaturals.com or call 479-927-4900.
The Northwest Arkansas Naturals are the Double-A Texas League affiliate of the Kansas City Royals and play at state-of-the-art Arvest Ballpark, located in Springdale. Visit our website, nwanaturals.com, for information on season tickets and ticket plans.
This article originally appeared on the official website of the Northwest Arkansas Naturals. Click here to view the original story.