"Take Me Out to a Ball Game" themed grant will help fund sports programs for disabled youth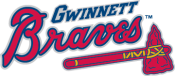 The Gwinnett Braves have awarded their $1,000 grant for the month of April to Gwinnett County Special Olympics. The "Take Me Out to a Ball Game" themed grant, aimed at assisting organizations that promote youth athletics and activities, will help fund Special Olympics' sports programs for youth with intellectual disabilities.
The Special Olympics program was founded in 1968 by Eunice Kennedy Shriver and provides year-round training and athletic competition for more than one million athletes in nearly 150 countries and all 50 states in the United States. Gwinnett County Special Olympics is the agency that operates the Special Olympics program in Gwinnett County. Their program supports more than 2,000 athletes of all ages including school-age children with intellectual disabilities, giving them continuing opportunities to develop physical fitness, demonstrate courage and experience joy of sports participation.
The funds from the grant awarded by the Gwinnett Braves will help Gwinnett County Special Olympics in its continued mission to provide uniforms, transportation, sports facilities and equipment for youth athletes specifically in Gwinnett County. The Gwinnett Braves and Gwinnett County Special Olympics have had a strong partnership for the past five years, including an annual "Best Buddies" clinic where disabled youth learn baseball skills from G-Braves players at Coolray Field.
"The Special Olympics mission remains as vital today as it did when the movement was founded in 1968 by Eunice Shriver," said Karen O'Connor, Fundraising & Outreach Chairman of Gwinnett County Special Olympics. "Through the power of sport, Special Olympics strives to create a better world by fostering the acceptance and inclusion of all people. Our 2,100 school age athletes, parents and volunteers are so appreciative for the Gwinnett Braves' support."
The original story appeared on the Gwinnett Braves' website can can be viewed by clicking here.