"Season of Giving" themed grant will help fund therapeutic horseback riding program for disabled youth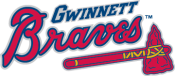 LAWRENCEVILLE, GA – The Gwinnett Braves have awarded their $1,000 grant for the month of December to Parkwood Farms Therapy Center, Inc. of Snellville, GA. The "Season of Giving" themed grant is designed to assist organizations that benefit youth, education or sports programming.
Parkwood Farms Therapy Center, Inc. is a multi-discipline therapy center that offers non-traditional therapies for children with a variety of disabilities, including autism, cerebral palsy, Down syndrome and intellectual disability. One of the key non-traditional therapies is therapeutic and recreational horseback riding lessons provided through the Parkwood Farms Equestrian Program. The Parkwood Farms grounds include nine acres of riding space, a handicap accessible arena, a large outdoor arena and a wooded sensory trail.
Parkwood Farms is also the training facility for the Gwinnett County Special Olympics Equestrian Team. The center hosts year-round equestrian and athletic training giving the riders opportunities to develop physical fitness, demonstrate courage, experience joy and participate in a sharing of friendship with other Special Olympians.
The grant awarded to Parkwood Farms will be applied to the purchase of new equipment for the Equestrian Program, including new helmets, saddle blankets, saddles and other riding gear. This new equipment will help keep therapy riders safe and comfortable for years to come.
"The grant from the Gwinnett Braves has allowed us to purchase new equipment for the horses and to expand the riders' lending closet," said Dr. Marilyn Peterson, Director of Parkwood Farms Therapy Center, Inc. "The riding outfits offer our athletes a way to take pride in their appearance and make a respectable presentation of their athletic abilities. The farm maintains the lending closet so the riders can borrow what they need and no one is excluded because they can't afford the uniform."
About Parkwood Farms Therapy Center, Inc.:  Based in Snellville, GA and opened in May 2002, the Parkwood Farms Therapy Center is dedicated to enriching the lives of physically, emotionally and mentally challenged children and adults by offering a spectrum of therapeutic services in one safe and loving environment. To find out how you can donate your time or money to Parkwood Farms, call 678-344-6821 or visit www.parkwoodfarms.org.
For more information on the Gwinnett Braves Grant Program, including details on how your organization can apply, call Community Relations Manager Shay Marlowe at 678-277-0346 or email shay.marlowe@braves.com.
This article originally appeared on the official website of the Gwinnett Braves. Click here to view the original story.