Organization receives $1,000 "Salute to the Arts" themed grant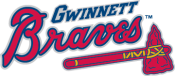 LAWRENCEVILLE, GA – The Gwinnett Braves have announced the recipient of their $1,000 grant for the month of March. Kidsplosion Nation Corp. has been awarded the "Salute to the Arts" themed grant, aimed at funding an organization that supports art programs or education.
Kidsplosion Nation enables youth to "Discover, Develop, and Display" their gifts and talents at camps throughout economically challenged areas of Gwinnett County. The organization provides afterschool and summer programs that include courses in dance, karate, comedy, music, art, cooking, acting and more.
Those activities provide children with an opportunity to discover what they enjoy, develop those talents through instruction and display their gifts through shows at the end of camps or afterschool programs. The organization partners with Gwinnett Parks and Recreation and Gwinnett County Schools to offer camps in their facilities. It also provides breakfast, lunch and snacks for free.
The $1,000 grant awarded by the Gwinnett Braves will be used for the purchase of snacks and Kidsplosion T-shirts to give campers, as well as website hosting and upkeep costs.
"We are so completely excited to be March's grant recipient," Kidsplosion Founder and CEO Carlena Evans said. "This grant will help us purchase summer camp shirts for about 200 students, which makes for a lot of happy campers. We thank the Gwinnett Braves on behalf of Kidsplosion staff, parents and campers."
About Kidsplosion Nation Corp.: Kidsplosion Nation is a 501(c)(3) charitable organization started in 2010 by Carlena Evans. The organization offers camps and afterschool programs for economically disadvantaged children in Gwinnett County areas with the highest need for affordable youth programming. Those programs enable youth to "Discover, Develop, and Display" their gifts. Kidsplosion also provides free breakfast, lunch and snacks for its campers. Kidsplosion partnered with Gwinnett County Parks and Recreation in 2013 and expanded into Gwinnett County Schools in 2014 with a desire to reach all children. For more information, visit www.kidsplosion.com.
For more information on the Gwinnett Braves Grant Program, including details on how your organization can apply for future grants, call Community Relations Coordinator Alison Atkins at 678-277-0346 or email Alison.Atkins@braves.com.
###
The Gwinnett Braves are the Triple-A affiliate of the Atlanta Braves. Follow the G-Braves at GwinnettBraves.com, facebook.com/GwinnettBraves1 and twitter.com/GwinnettBraves. Tickets are on sale now at the Coolray Field Ticket Office, call 678-277-0340.
This article originally appeared on the official website of the Gwinnett Braves. Click here to view the original story.