Local Theatre is recognized for their commitment to the Fine Arts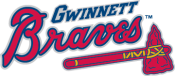 The Gwinnett Braves have awarded their $1,000 grant for the month of March to the Aurora Theatre of Lawrenceville, GA. This month's grant, intended to support organizations that promote art programs and education, will help Aurora Theatre in its purchase of a new portable sound system.

In 2011, the Aurora Theatre's Academy and Conservatory launched an educational outreach program. With county schools cutting down music and art programs, the Aurora Theatre travels to local Gwinnett County Public Schools and educates through workshops and small traveling shows.   This season, the program will debut "Unnecessary Monsters," an interactive play that will discuss the issue of bullying. With the help of the G-Braves, the play will reach a greater audience and avoid technical difficulties.
The program has grown exponentially since last fall.  Through their hard work and dedication, the Aurora Theatre program has provided the youth of Gwinnett County with more exposure to the arts.
"Our education program has many facets," said the Director of Education Jaclyn Hofmann. "We have our Aurora Academy training program, learning library shows, in school workshops and other features. With this grant we can purchase a portable sound system, so that we can travel to any school or organization."
The original story appeared on the Gwinnett Braves' website, and can be viewed by clicking here.