Organization receives $1,000 "Four Legged Friends" themed grant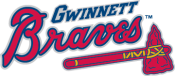 The Gwinnett Braves have announced the recipient of their $1,000 grant for the month of October. Project Paws Alive, Inc. has been awarded the "Four Legged Friends" themed grant, aimed at funding an organization that benefits animals.
Project Paws Alive was created in 2012 when the founders heard about a series of Police K-9 deaths that could have been prevented had the dogs been wearing protective ballistic vests while on duty. Since forming, the organization has worked to provide K-9 stab and bullet proof protective vests, as well as other vital K-9 equipment to Law Enforcement, Fire, Search and Rescue and Military K-9 units nationwide.

The $1,000 grant awarded by the Gwinnett Braves will help Project Paws Alive in their local mission, providing protective equipment to the nine dogs in the Gwinnett County Police Department's K-9 unit. Their goal is to raise $16,000, which will provide each K-9 with a ballistic/spike protective vest as well as a K-9 trauma kit.
"We are absolutely honored to be the recipient of this grant so generously offered by the Gwinnett Braves," said Cheryl Allen, Co-Founder and President of Project Paws Alive. "We are pleased to announce that this particular grant will be used to purchase protective equipment for our very own Gwinnett County Police K-9 Unit."
About Project Paws Alive, Inc.:  Based in Grayson, GA, Project Paws Alive is a nationwide 501(c) non-profit organization. They rely solely on donations and sponsors to provide life-saving K-9 equipment to Law Enforcement, Fire, Search and Rescue, EMS and Military units across the country. To learn how you can support Project Paws Alive, visit their website at projectpawsalive.org.
For more information on the Gwinnett Braves Grant Program, including details on how your organization can apply for future grants, call Community Relations Coordinator Alison Atkins at 678-277-0346 or email Alison.Atkins@braves.com.
This article originally appeared on the official website of the Gwinnett Braves. Click here to view the original story.