"All About Children" themed grant will help fund the organization's Back to School program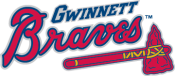 The Gwinnett Braves have awarded their $1,000 grant for the month of September to For My Sisters, Inc. The "All About Children" themed grant is aimed at assisting organizations that benefit children.
For My Sisters, Inc. helps single-mom families acquire back to school needs, including school supplies and backpacks, shoes, clothing, and personal care items such as toothpaste and deodorant. According to the organization, 40 percent of single mom families are below the poverty level. For My Sisters, Inc. endeavors to help provide in many areas of child rearing so the children of these families may become healthy, productive adults.

The grant awarded by the Gwinnett Braves will help the organization in purchasing tennis shoes and clothing required for Georgia schools' Physical Education programs. This will ease the financial strain on numerous single-mom families, especially those with more than one child.
"Because of this wonderful, generous grant from the Gwinnett Braves, For My Sisters will be able to provide new shoes and other necessities for a successful school year for many children," said Kari Price, Executive Director of For My Sisters, Inc.
The original story appeared on the Gwinnett Braves' website and can be viewed by clicking here.