G-Braves announce their 2014 Baseball Camp session dates
CLICK HERE to download a Baseball Camp Registration Form!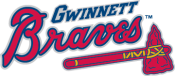 The Gwinnett Braves are set to bring back Youth Baseball Camps for the 2014 season. The G-Braves will be holding their annual three-day baseball camps at Coolray Field in June and July.
There will be two separate three-day camps. The first session will run from June 24-26, while the second and final session will go from July 21-23. G-Braves' players and coaches will teach kids what it takes to become the best ballplayer they can be. Campers will learn basic fundamentals like hitting and pitching and specialized skills like bunting and base running.
The camp is open for kids ages 8-14 and will run from 9 AM to 12 PM each day. Each participant will receive a T-shirt at the beginning of camp and will be served lunch at the conclusion of each session. On the final day, the players and coaches will gather for an autograph session with the kids. In addition to the instruction and player interaction throughout the three days, each camper will receive two Field Box Tickets for a Gwinnett Braves home game and will get to take the field as part of the "High Five Tunnel" prior to the game action.
Three-Day Camp registration is $100. All campers who participate in the Three-Day Camps will receive the following:
G-Braves Baseball Camp T-Shirt
Two (2) Field Box Tickets
Lunch on all three days
For more information or to reserve your spot, contact Gwinnett Braves Community Relations Trainee Alison Atkins via email at alison.atkins@braves.com.
The Gwinnett Braves, Triple-A affiliate of the Atlanta Braves, return to Coolray Field on Saturday, April 19 for a 7:05 PM game against the Charlotte Knights. Tickets for all home games are available for purchase now by calling the Coolray Field Ticket Office at 678-277-0340 and by visiting GwinnettBraves.com.
This article originally appeared on the official website of the Gwinnett Braves. Click here to view the original story.