Here is a link to the original story on the team's website.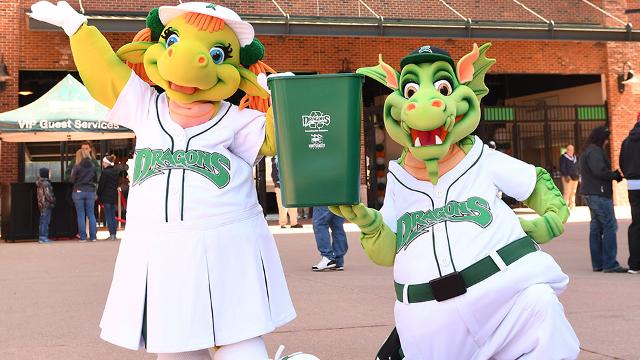 Dayton, Ohio – The Dayton Dragons and Montgomery County Environmental Services are once again teaming up for Heater's RBI Program (Recycling Bin Initiative). It's a free, fun and educational program for kids and families to learn about household recycling and its benefits to the earth. It only requires two weeks of tracking recycling to participate, but families are encouraged to keep up the good work after.
This is the 8th year for the RBI program and tens of thousands of cans, glass, cardboard and plastic have been saved from the landfill thanks for the recycling efforts of participants. The best part is, all participants will receive up to four Dragons lawn tickets for an exclusive RBI Night and be eligible to win other great prizes. Visit www.daytondragons.com/rbi to get more information and participate.
The RBI kickoff event will be after the Dragons game on Sunday, April 29 when the Dragons take on the Fort Wayne Tin Caps at 2:00 p.m. Fans can pick up a 10-gallon recycling bin (1 per household while supplies last), hang out with Curby the Cardinal and get more information on the RBI program upon leaving the game. Montgomery County Commissioner, Deborah Lieberman, will also be in attendance to throw out the ceremonial first pitch and encourage the recycling efforts for the RBI program.
About Montgomery County Environmental Services
Montgomery County Environmental Services is more than 300 men and women who provide high-quality drinking water, solid waste, recycling, and wastewater reclamation services to the citizens of Montgomery County. They work to preserve public health, foster economic development, and protect the environment and our natural resources for future generations. They aim to be leaders and trusted stewards of the environment focused on service, collaboration, innovation, and financial responsibility.
Montgomery County Environmental Services also offers educational programs to local schools, community organizations and businesses that want to learn more about conservation and sustainability in the Miami Valley region.
More Information: The Dayton Dragons are the Midwest League affiliate of the Cincinnati Reds and play a 70-game home schedule at beautiful Fifth Third Field in downtown Dayton, easily accessible from Interstate 75. Individuals and groups seeking information about Dayton Dragons group tickets, lawn tickets, the season ticket wait list, sponsorship opportunities or booking a Dragons speaker are encouraged to contact the Dragons by calling (937) 228-2287, by email at dragons@daytondragons.com, or on the web at daytondragons.com.
—end–
This story was not subject to the approval of the National Association of Professional Baseball Leagues or its clubs.