"Dodger Blue" Jerseys Benefit Domestic Violence Shelter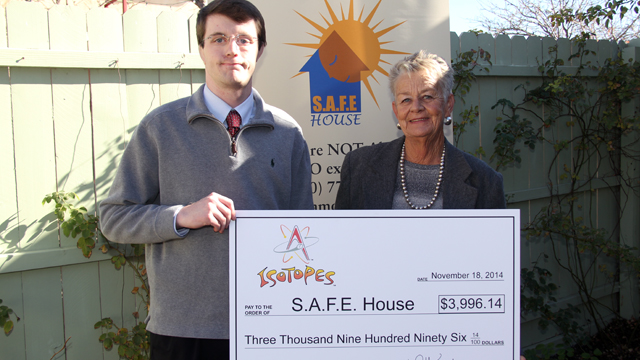 The Albuquerque Isotopes presented a check in the amount of $3,996.14 to S.A.F.E. House Domestic Violence Shelter on Tuesday, November 18th with funds raised from the "Dodger Blue" weekend jersey auction.
This money is invaluable to us," said Michele Fuller, Executive Director of S.A.F.E. House Domestic Violence Shelter. "We will use it help residents register for day care, buy gas so a survivor can continue to get to work, or pay for a child's birthday cake. Many, many thanks to the Isotopes organization and to all of their fans for making this possible."

In recognition of October as "Domestic Violence Awareness Month," the Isotopes held an online auction from October 17-24 for their "Dodger Blue" jerseys, many of which were game-worn. Bids were received nationwide with Alex Guerrero garnering the highest overall bid at nearly $220. Although most of the bids were from New Mexico, winning bids were also received from Arizona, California, Georgia, Maryland, Utah and Wisconsin.
Traditionally donned by Albuquerque during weekend home games, the jersey featured "Isotopes" script lettering across the front with the Topes' "A" logo on the right sleeve and the Los Angeles Dodgers' "LA" logo on the left sleeve.
"S.A.F.E. House does great work in our community, and we hope that this donation will help fulfill their mission," said John Traub, General Manager of the Albuquerque Isotopes. "Michele and her staff do a tremendous job to help heal wounds of families and raise awareness for domestic violence in Albuquerque."
S.A.F.E. House Domestic Violence Shelter aims to shelter and empower survivors of intimate partner domestic violence and to improve the way New Mexico responds to domestic violence. S.A.F.E. House strives for a community that is free from all forms of oppression and violence and serves more than 1,000 families through our doors annually. S.A.F.E. House provides programming aimed at healing the wounds, breaking the cycle, and improving the lives of families in our community. More information about S.A.F.E. House Domestic Violence Shelter can be found at http://www.safehousenm.org.
This article originally appeared on the official website of the Albuquerque Isotopes. Click here to view the original story.