Bemiss and Sheridan chosen as program's 2014 recipients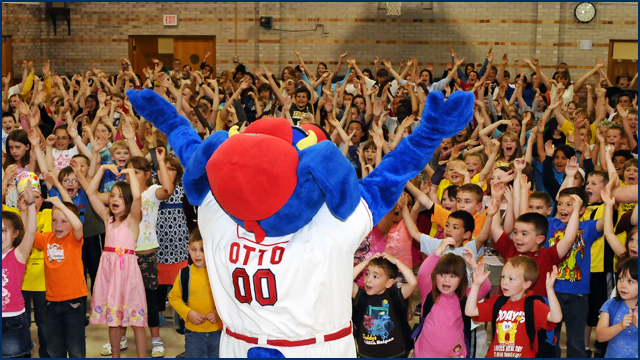 For the fifth consecutive year, the Spokane Indians and Itron will partner for the Itron Champions Program, which rewards low-income Spokane schools with a visit from OTTO the Mascot, a school assembly and 250 Indians tickets to distribute to their students as a reward for good attendance, hard work and achievement in the classroom. Bemiss Elementary and Sheridan Elementary have been chosen as this year's recipients.
"The Itron Champions Program is a perfect complement to our commitment to helping children in the Spokane community," said Indians Senior Vice President Otto Klein. "It keeps kids excited and motived to learn during the final month of school."
Bemiss Elementary will have their assembly on Friday, May 9th at 2:00 PM. Sheridan Elementary will host theirs on Friday, May 30th at a time to be determined.
"Itron is dedicated to supporting young people in our community. That's why we are proud to sponsor the Itron Champions program," said Diane Vanos, manager of community investment, Itron. "Rewarding good attendance, hard work and achievement in the classroom will help encourage positive behaviors and shape our community's future leaders."
The Spokane Indians open the 2014 season on Friday, June 13th, against the Eugene Emeralds, and will be televised on SWX-TV.
The Spokane Indians would like to thank all of our fans for their support during the record-setting 2013 season. The Indians are the Short Season Class "A" affiliate for the Texas Rangers. Ticket packages are on sale now for the 2014 season, and start as low as $63. Reserve your seats today by calling the Avista Stadium Ticket Office at (509) 343-OTTO (6886). Parking at all Spokane Indians games is FREE!
This article originally appeared on the official website of the Spokane Indians. Click here to view the original story.